Travel and tourism are becoming two of the most loved hobbies of the new generations. The love for diverse cultures and experiences and the need to escape the monotony of the 9 to 5 hustle drives this passion. In fact, 78% of millennials choose to spend money on an experience over products. Tourists are also becoming more intelligent, using online resources to find the best price-quality ratio for hospitality services.
Businesses that do not stand out from the competition will likely fall through the cracks in this Experience Economy. Learning how to provide the most memorable experiences for guests is vital.
What is gamification in business?
Gamification is considered a novel and out-of-the-box way of staging and designing experiences that make a lasting impression. However, the contemporary idea of gamification goes beyond traditional loyalty programs or customer competitions.
Gamification in Hospitality Business
Enterprise gamification integrates game elements and psychological functions into their strategies.

Over the last 5 years, the value of the global gamification market witnessed an exponential growth of $7.03 billion. (Source: Gitnux)
Gamification combines multiple core elements and creates a comprehensive strategy that speaks to the emotions of the audiences.
What Makes Gamification a Successful Strategy in Hospitality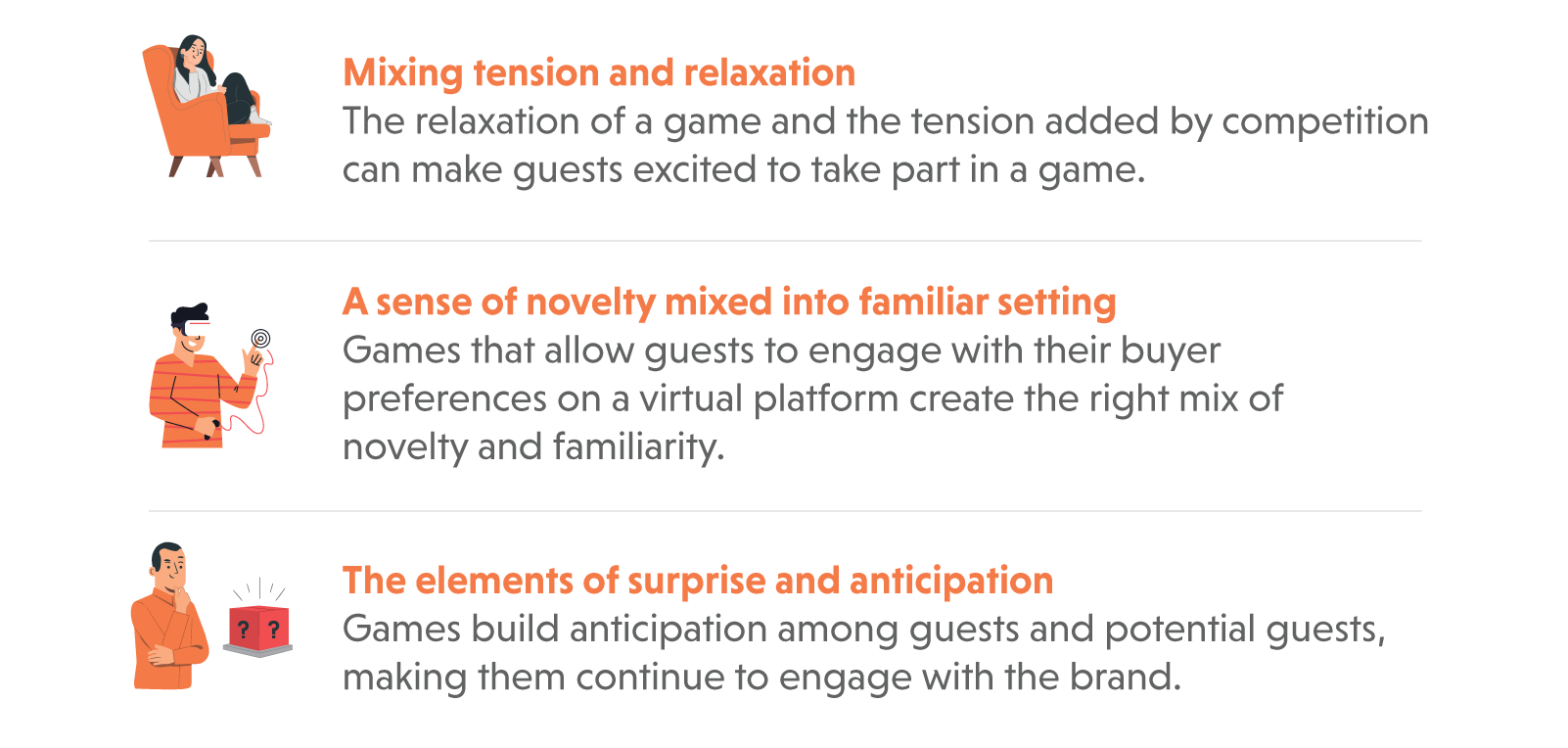 What are the benefits of gamification in hospitality?
1. Keep visitors engaged
Gamified travel and tourism facilitate travellers to constantly engage with a brand using minimal resources such as mobile phones or computers. This leads to travellers who are hesitant to make a reservation or have not interacted with a brand for a while to be curious and participate.
2. Encourage more purchases
Gamification is also a great way to allow visitors and potential visitors to get a 'taste' of the destination before the visit. A game or a virtual setting that mimics the real destination (created using Augmented Reality, Virtual Reality or metaverse technologies) shows visitors exactly what to expect and encourages more bookings.
3. Increased loyalty
Truly satisfactory experiences are more likely to invite repeat stays and reservations. For instance, the interactive and educational games build a brand's credibility in multiple audience segments, from students to leisure and even business travellers.
4. Improved marketing
Gamifying reward programs increase customer loyalty via better engagement and make their overall stay pleasant. Incorporating digital tools, utilising social media, gamified websites, and virtual environments encourage more site traffic and offline reputation.
How can hospitality adopt gamification?
Contemporary hospitality businesses are using gamification in multiple stages of a guest's journey with the brand.
1. Website gamification before the booking stage
Gamification before the booking stage must align with the right audience at the right time. This was done perfectly by the Lopesan Hotel Group, who launched a Halloween-themed game during the season on their website. By leveraging the high website traffic brought by Halloween, the hotel aimed to target new and potential guests and win their loyalty.
Another example is Wyndham Hotels and Resorts deploying an interactive mobile app, adding gamification as incentives for guests. This enabled the hotel to stay connected with guests and build effective communication even prior to booking.
Gamification at this stage encourages audiences to engage with the brand and helps brands get more website traffic, build their email lists, and build extensive customer databases.
2. Booking stage games
Most hotels and resorts are looking for better ways to increase their direct bookings, and gamification is one of the best ways to do that. Inviting potential guests to play a game during the booking process can entice guests to stay engaged with the brand and look out for a grand prize. Hotels can offer the winners either a discounted stay in one of their rooms or a special vacation package.
Those who do not win but still participate can also be given simple prizes such as a free meal, discounted tours or a room upgrade. The idea of winning a prize attracts more people into booking a hotel and, as a result, builds more positive experiences with the brand.
3. Gamification during the check-in
High waiting time is one of the most challenging parts of a guest's experience. While most accommodation centres have innovative solutions to minimise these—such as mobile or contactless solutions—high foot traffic is sometimes unavoidable.
Gamification can also make a hotel's check-in process exciting. It offers guests a chance to take part in an online game as they wait for prizes, including discounts or special amenities during the same or future stays. Hotels can leverage mobile technology and invite guests to join a game by signing up to a site, the hotel app or even a QR code. Additionally, hotels can also position kiosks for gamers.
Gamification during the check-in stage adds a socialising element to a guest's time at the hotel. Certain hotels are even known to include leaderboards with names of guests with the highest scores, which adds a sense of anticipation, spice and competitiveness. These online games are a quick and easy way to create a good first impression and make the check-in process less tiring.
4. Gamification of messaging
A hospitality brand can maintain communication with guests even after their stay with messaging and marketing efforts. Yet, the gamification of this can make a brand's messaging strategy more exciting and engaging for the audience.
Gamified messaging is particularly useful to entice abandoned guests, but its value also extends to retaining guests interested in the brand. For instance, an email can include an interactive experience with an embedded game to bring engagement from guests who haven't visited a restaurant in a while. Similarly, a simple SMS can be sent to a former guest with a link to participate in the latest raffle drawn by a café.
Modern hospitality businesses have a myriad of ways to collect guest data. POS solutions, Property Management Systems and even online ordering modules can collect not just the demographics of guests but also their preferred products and services. So, why not convert and use that raw data to design the types of games a guest prefers?
Gamification helps hospitality upgrade its entertainment values
Entertainment value is almost a key performance indicator (KPI) that defines the quality of a hospitality brand. With modern companies having the privilege of data accessibility and digital resources, gamification stands as the next big step for guest interaction and service.
After all, in hospitality, keeping the guests engaged with a next-level service is the secret to business growth and sustainability.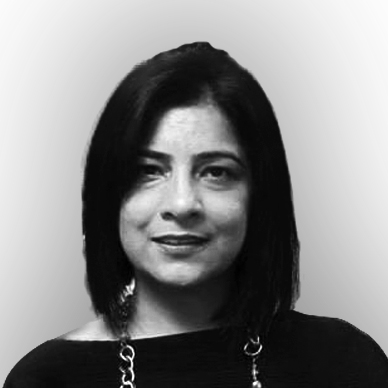 Vice President – Marketing
An internationalist with a diverse background in marketing and supply chain management, Tanya currently serves as Vice President, Marketing at IDS Next Business Solutions. Tanya is responsible for all marketing and branding activities within IDS, including development and execution of marketing strategies and plans to help take the company to it's next level.