Experience and branding have become two critical elements in fostering guest loyalty in the hotel industry. Particularly in the age of consumer empowerment, seamless guest experience and branding go hand in hand—a fact that no good business can overlook. This has made it essential to identify where guests face friction in their journey from check-in to check-out in a hotel. Travellers may book their hotel stays for multiple reasons, however, despite the objective of their travel, the journey of their stay must be considered with utmost importance. 
Social media's popularity has pressurised hoteliers to maintain their brand image with great competition, as hotel ratings and reviews are now posted and available online for the public. Statistics revealed by Stratos Jet Charters in early 2022 show that 66% of millennials prefer to use their smartphone to book their trips and 74% use their mobile devices for travel or hotel-related research. Hotels need nothing short of perfection to impress their audiences.   
The current competition also demands that hoteliers attend to every need of guests with personalisation. This can be quite a hassle to achieve with recent struggles most hotel businesses face. Appropriate resource allocations have also become difficult for most managements with prominent skilled labour shortages, even as the worst of COVID-19 has passed.   
All these factors have become the culprits for the negative guest experience, leading to the following common pain points.  
Long lounge waiting time during check-in

Sometimes, hotels expect guests to wait longer at the front desk or the lounge, leaving the latter frustrated and uncomfortable. It can be disappointing for those who arrive at the hotel after long hours of travel, expecting to quickly check in to their room and rest. The situation worsens during high-travel and vacation seasons with increased bookings.  
Lack of complimentary supplies

Guests expect a comfortable and relaxed stay at hotels. Naturally, they expect complimentary amenities such as drinking water, shampoo, soaps, coffee and tea when they check-in. Unfortunately, the lack of room commodities or the delay in re-supplying such amenities can significantly drop satisfaction scores.  
Slow room turnover

Quickly turning over rooms is essential to success in the hospitality industry. Often, properties may display a slow room turnover due to being short-staffed or have a high number of bookings. Today, guests wish to check in or out with zero glitches or delays. This often leads to frustrations for the guests.    
Technology has always been at the forefront when delivering a seamless service. Digitalising guest services can help hoteliers streamline and upgrade their services and eliminate the chances of guests leaving the hotel dissatisfied. Moreover, it can boost hotel ratings and organically bring positive recognition to the brand. Hoteliers striving to vamp up their game in the challenging industry need a solution to the above challenges. Amongst the most recommended tech-driven solutions, hoteliers can implement the below-mentioned solutions:  
Self-check-in options

This is an ideal solution to avoid making guests wait for a long time at the lobby during hotel check-in time. The long wait is one of the big pain points guests experience. Kiosk Marketplace reported that the digital check-in technology increased by 66% due to the pandemic. Hotels can leverage this trend by adding mobile self-check-in/ check-out options and significantly reducing lounge waiting hours. This could also facilitate contactless check-in.  
Digitalised room service system


Hotels can provide guests with all the required information they need on their smartphones, from general information about the hotel to a complete room service menu with the option of self-ordering.  TravelPerk reported that 79% of corporate travellers had completed a business trip booking on their mobile devices. These numbers make it apparent that smart and mobile technology is a sure way to guarantee today's guest comfort and get services delivered on time.   
Tech-driven resource planning


A cloud solution that streamlines housekeeping tasks for supervisors and housekeepers by prompt notification of tasks can accelerate all housekeeping operations and consequently provide speedy and convenient service for the guests. Additionally, automation of the hotel's routine tasks can help manage staff shortages, effectively eradicating delays in room turnovers. 
Personalised accommodation


Moving beyond the one-size fits all approach, hotels can cater to the individual needs of their guests by collecting guests' information and preferences with a cloud-based Property Management Software and customising their services and amenities as per their needs. On the other hand, guests can request their preferred amenities prior to check-in, providing increased convenience while enabling hotel resources and services to be distributed optimally.   
Understanding where a hotel can improve its services and ensure a seamless journey for guests is paramount for the sustainability of any hotel business.   
The more hotel companies focus on reducing friction for guests, the more the guests can relax and enjoy the experience. A happy guest is a returning guest as they bring immense opportunities for more potential guests and simultaneously revisit the property. The worldwide smart hospitality industry is forecasted to reach $49.9 billion by 2027. Hence, technology combined with adequate planning and strong communication skills will alleviate guests' pain points as much as possible, resulting in an ultimate guest experience and higher credibility.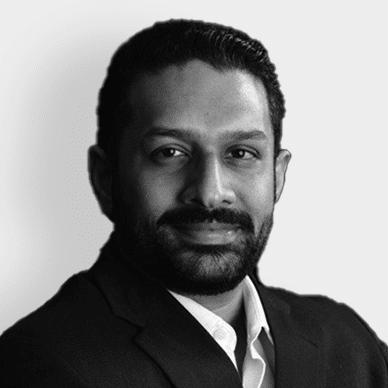 Vice President - Business Development
He is responsible for developing growth strategy focused both on financial gain and customer satisfaction. He is also responsible for conducting research to identify new markets and customer needs.