Most of us are familiar with the Hawthorne effect. Back in the 50s, Hawthorne Electrics conducted a series of experiments where they played with differing light levels to see if it impacted worker productivity. It was found that those workers exposed to changing light conditions showed increased levels of productivity than those that didn't. But one of the surprising inferences drawn from the experiment was that lighting had little to do with the results; what mattered was, perhaps, the workers' perception that they were being cared for, by management.
Today, hospitality is a hi-tech industry that appears to pull out all the stops to enable better functioning and a differentiated guest experience. From smart keys to electronic environmental controls to online menus.. the industry has come a long way in the last two decades. For example, at IDS Next, we create the technology for the hotel operations to run smoothly with solutions like the contactless check-in check-out, enterprise full stack solutions, to electronic menus and more. IBIS tells you they're all about their mattresses, and indeed this is necessary. The Leela chain offers palace-like interiors, and the Four Seasons offers unparalleled elegance and luxury… every hotel and restaurant spends a fortune on interiors, be it commissioning wildly expensive art, or cascading chandeliers and water features in the lobby, or glitzy bars straight out of a Hollywood sets, as an industry we devote considerable funding to outer appearances.
In our quest to look good to our clients and guests, we seem to forget the most essential comfort to be afforded to any visitor. A courteous, well-trained, welcoming team of people who can make a visitor feel like they have come home. Amidst plush sofas, sparkling lights and luxuriant carpets, we can all agree nothing is more noticed than a warm smile from the front office, and a few well-delivered questions and conversations.
"Did you have a long flight? I hope you'll be able to get enough rest now".
"Have you visited this city before? Oh, you did. Welcome back!"
"I see you're staying here for quite a while? Is there anything special we can do to make you feel even more at home!"
"Sorry your order was delayed. Please could we offer you a complimentary drink to show our regret."
If a guest feels genuinely cared for, your chain or restaurant has a repeat client and an ambassador for life. But who is it that actually cares for the guests? Is it the GM? The Director of the chain? The Executive Chef? No… It is the frontline staff at the hotel. Front Office assistants, bellboys, F&B assistants… they check in guests, answer phones, take queries and serve your guests and will ultimately decide what the customer experience is. These are the people who encounter guest rudeness and irritability when things go wrong. And they define how you will be perceived in the market.
But it is a well-known fact that front line staff in this sector are notoriously poorly paid. The statistics would prove this, it seems. In Australia, as of 2021, there were roughly 478,000 employees earning less than the hospitality award rates. The figures declined considerably over the pandemic. In India, a country renowned for the excellence of its hospitality sector, the starting salary for fresher hotel management graduates is INR 15,000 – 20,000 depending on role or location. (careers360.com). As a general rule of thumb salaries range from INR 8,080 (lowest average) to INR 59,400 (highest average). (aryaexplorer.com). The national average annual salary for a Front Office receptionist in the UK is a mere is £23,673. (glassdoor.co.uk)
By any stretch, these figures do not reflect a living wage for those who decide how a client feels about the offering of a property or food outlet. Branson famously said, "Take care of your employees and they'll take care of your business". This is golden advice and follows on from the findings of the Hawthorne experiments. Perhaps, it is time the hospital sector addressed the issue of remuneration for the lower orders of staff and invested into adequate pay scales, incentives and training for staff and executives. If as much funding was poured into making staff feel cared for as was poured into expensive fountains in a lobby or designer cutlery in a restaurant, let's face it, we'd actually have happier guests. Because while the frills can make a guest feel good, a truly caring, attentive person at reception is what they will actually remember. Yes, without doubt, having seamless operations with the right smart software, can help the employees focus on the guests… but that is just Hospitality 101, you'll agree. Leveraging technology to optimize staffing and remuneration can only be a win-win for all stakeholders in the industry.
Like it or not, beyond the right, there is one sure-fire way to make an employee care—pay them well. Researchers at Harvard Business School make the case for the link between increased wages and increased productivity. This ultimately reflects on a company's fiscal performance and the hotel sector is no exception to this rule. While we offer massive packages to top-tier management in our sector, we are, if we are truly honest with ourselves, quite miserly with the ones that do the grunt work. In a people-focused space such as hospitality, this requires a fundamental rethink. The frontline staff are the calling card of a hotel or F&B outlet. And as the saying goes, "You pay peanuts, you get monkeys".
To offer clients and guests the best possible experience, we have to go beyond the superficial. We have to show them we care for them. And we can do this best by looking after those who deal with them directly. Customer care in the hospitality sector begins by caring enough to pay junior staff well, because at the end of the day, our frontline is intimately connected to our bottom line.
Source: HospitalityNet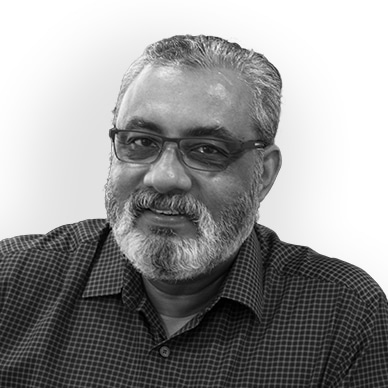 Chief Executive Officer
As the CEO of IDS NEXT, Binu acts as the primary spokesperson of our company and is responsible for managing various business functions of IDS across the globe including sales, support and services, and product development.