"Travel habits are always changing, and we find there are more and more guests that want the juxtaposition here, a quiet respite in the heart of Las Vegas and all the fabulous things it offers."
Lezlie Young, General Manager, Las Vegas Convention and Visitors Authority
They say that what happens in Vegas stays in Vegas. However, concerning the hospitality industry, it cannot stay a secret anymore as the city's paradigm shift leaves many lessons for hoteliers around the globe.
The evolution of digitalisation in the hospitality industry has led to many challenges, leading to the rise of unique conglomerates in the market. A combination of e-casinos and other digital gambling organisations has introduced a unique sociocultural environment, and this is no different in the city of sin.
The Las Vegas Convention and Visitors Authority (LVCVA) tourism indicators also reported a tourist decrease in the last year during pandemic levels with the total visitor volume for February 2022 being 2,616,600 people. While this was 69.9% more than in February 2021, it was 18% lower than in 2019.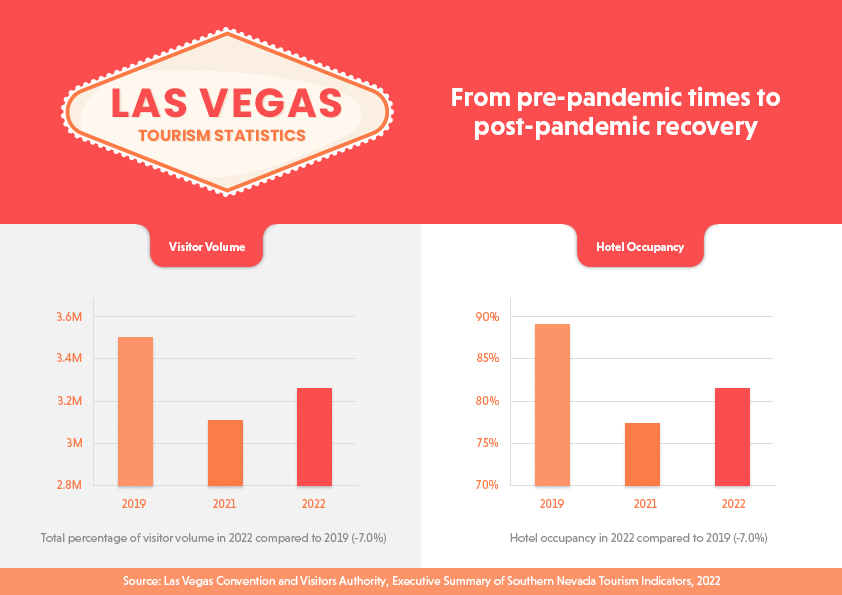 The response to these challenges is the city of Last Vegas changing its status quo, exploring new strategies like:
1. Diversification of tourist attractions
Hotels across the globe turned to ancillary revenue during the lockdown as RevPAR proved unsustainable during crises. Vegas hotels responded to these challenges by opening up new entertainment and socialising facilities as proven by big hotels like Wynn Las Vegas designing a 400,000 square foot convention space and reopening its 18-hole golf course.
This leaves a strong message for hospitality businesses outside Vegas. Outdoor leisure facilities and socialising spaces are an ideal solution to offer guests a safe environment with open interacting opportunities, which will in turn continue the revenue stream.
Fortunately, the standardisation of hospitality technology, especially club and leisure management apps, makes diversification of entertainment facilities much easier for hotels. Hoteliers can leverage these brand-new solutions to launch new strategies such as:
Promote new facilities like wellness or outdoor tours
Manage the influx of multiple types of guests
Keep track of diverse entertainment and leisure needs
Provide contactless/ mobile solutions
Maintain health and safety standards even at the height of socialising seasons
2. Reinventing the gaming culture
The extension of entertainment facilities beyond casinos is one of the biggest shifts that Las Vegas has witnessed throughout the last few years. As more states legalise gambling and opening of new online casinos, players can take part in gambling and gaming without requiring to travel to Vegas.
Today, hotels are investing in AR and VR technology, providing immersive travel, exploration and gaming experience to guests. By providing guests the chance to interact with an enhanced physical environment, even from the comfort of their hotel room, hotels build a better brand impression amidst the cutthroat competition.
Keeping up with digitalisation, Vegas entertainment centres have made efforts to transform the city into a major global Esports destination. CEO Dave Thompson of Changing Vegas creating the Asteroid Arena—a 4-person CCG designed for eSports shows that the city is already upping their game.
Changing the game culture of Vegas has left something for other hotels to consider. E-facilities and visual technologies have empowered hotels to keep guests engaged and entertained throughout the year, especially during low or restricted travel seasons.
3. Turning healthier and more sustainable
The world is experiencing more sociocultural changes as inclusivity becomes the norm and diversity is respected. In 2019, restaurants in Clark County-Las Vegas introduced eateries with the vegan and vegetarian options. Further gyms, free yoga classes and indoor hiking services have also evolved to be standard for hotels.
These new changes have proven that hotels need to be prepared for a diverse audience: the vegans, the wellness travellers, the health junkies and more. It is time to re-evaluate the traditional idea of a 'comfortable stay' to ensure every type of guest feels welcome.
Data monetisation through past sales data saved in modern ERP solutions will enable hotels to prepare personalised menu combos, curated room plans and pre-set amenities to accommodate and support different lifestyle choices of travellers.
Sustainable operations are joining these efforts to keep the green travellers satisfied. The migration from paper-based modules into cloud software to reduce paper trails has contributed to an overall positive environmental impact.
4. Building strategic partnerships
Partnerships with famous brands have become a popular trend for Vegas. Renowned partnerships like Wolfgang Puck's Spago at the Bellagio have started to attract more for business recognition.
Partnerships need not be limited to the Vegas border alone. New and smaller hotels can benchmark the same strategy and partner with local artists, sports venues, entertainment centres, popular spots or even local events.
Entertainment and popular culture have always been the key focus for travellers and explorers. Building positive synergies with them will lead to a win-win that promotes local small businesses, simultaneously attracting more foot traffic to hospitality businesses.
Hotels can also take this a step further by communicating these partnerships via their own app, promoting them on their websites and listing different facilities and entertainment offers on their online platforms.
Bringing the Vegas life to the outside world
Las Vegas is evolving, with a prediction that it may soon lose its title of nightclub capital of the world.
Taking a page out of the Sin City, the world of hospitality can reinvent its services to match changing customer needs, such as diversified entertainment services, accommodating different types of travellers and tech-powering the services to increase service value amidst changing demands.
Las Vegas leaves something to think about for the global hospitality services market; to think out of box and to meet the new generation of patrons with services unlike ever before.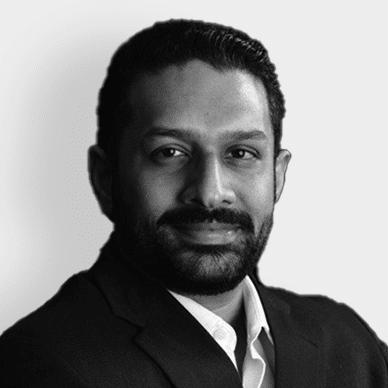 Vice President - Business Development
He is responsible for developing growth strategy focused both on financial gain and customer satisfaction. He is also responsible for conducting research to identify new markets and customer needs.