Immersive technologies such as virtual reality (VR) are becoming more popular by the day, redefining the entertainment industry with innovations like never before. Spatial computing, Metaverse and other new virtual adventures may have been more famous for their entertainment-based applications, but businesses increasingly realise their potential as an operational tool.
VR is specifically helpful in delivering critical information to potential customers before making purchase decisions. But what are the other out-of-the-world experiences that VR promises to the hospitality industry?
1. Virtual travel
Virtual explorations are one of the most known applications of VR in hospitality. In 2015, Marriot launched the Vroom experience to let travellers check out different parts of the world from their hotel rooms. Now used by many other hospitality brands, this facility provides exemplary travel opportunities.
While some argue that VR travel does not give the same ambience of being at the actual destination, it promises unique benefits; it presents exploration opportunities to guests with mobility-impairments and allow guests to see recreations of destinations that are otherwise impossible to explore. For example, Australian archaeologist Simon Young's company Lithodomos VR uses the technology to bring the ancient city of Rome alive, attracting more tourists to the destination, which is a remarkable opportunity for hoteliers to attract explorers with non-room services.
Hotels and restaurants can even add this within their bespoke offerings: by gathering customer travel preferences on their property management system or reservations solutions, these businesses can be ready with immersive tour offerings the moment the guest arrives on the venue. They can then be allowed to travel virtually from the comfort of their room!
2. Virtual venue tours
Another common use of VR in the hospitality industry is VR venue tours which help engage guests before and after interacting with a venue. Before their arrival, the guests can explore the hotel or the restaurant virtually, enabling them to discover what facilities and amenities await them.
A significant 92% of internet users state that viewing a 360-degree panorama is essential when browsing for online products/ services or brands. For example, VR tours that integrates with a hotel's or reservation solution allow potential guests to look at their rooms, explore room options and discover other amenities before choosing accommodation.
While these tours are best experienced with a VR headset, they can also be made available to those without access to a headset on brand websites or social media sites using its 360-degree technology.
A prime example of VR tours in hospitality is being deployed by Shangri-La hotels and resorts, which offer guests virtual tours to iconic destinations and hotels, all from the comfort of their homes. The hotel offers this opportunity on its website, a strategy that most hospitality businesses can leverage to promote their facilities and invite more sales and bookings.
3. Virtual booking processes
A more recent use case of VR technology is the creation of VR booking processes. Multiple companies recently implemented this, allowing customers to look for flights, compare hotel prices, and book rooms through a virtual reality headset.
The virtual experience and its novelty can entice guests to book a hospitality facility by providing a visually appealing experience at the booking stage. The integration of a hotel's booking solution with 3D visualisation capacity of VR technology, helps guests understand the spatial arrangements and sizes of venues better, providing them with a seamless booking experience.
Similar capabilities are allowed through Metaverse, which has the potential to drive utility, engagement, and loyalty through immersive marketing efforts. Such spaces enable guests to interact with brands and other guests, fostering a community of loyal customers that constantly engage with the brand.
4. Virtual training sessions
VR can be used to enhance the experience of hospitality employees as well. Modern hospitality brands are training their labour force with VR skill programs, a novel immersive educational approach that replaces traditional classroom training or supplements it with advanced simulations for more comprehensive sessions.
VR training simulations provide employees with a realistic and immersive experience, allowing them to practice responding to challenges and develop the skills to handle real-life situations effectively. For example, when a property decides on complete digital migration or introduces smart ERP solutions to their operations, simulated learning sessions can provide a more authentic experience in managing tech-powered operations.
This approach reduces the cost of traditional training sessions and empowers them to provide a more quality service to guests. Further, it makes employees more comfortable with operating with novel technologies, enabling them to confidently manage hospitality solutions, prepare the existing staff to face challenges and meet guest demands effectively.
Create a world of limitless possibilities
No technology comes without challenges; adopting VR requires careful analysis of consumer demographics and preferences and reviewing a brand's financial capacity to invest in required resources. While it may resonate well with Gen Z and millennials, how will Gen X or Boomer customers respond? How can small and independent hospitality brands leverage this technology by optimising their resources? These are some of the questions that need to be raised before immersing in a new technological reality.
However, the fact remains that virtual reality is one of the most significant emerging technology trends in the world. The business world is gradually coming to terms with the various opportunities it provides. In hospitality, it has the potential to digitally transport customers to destinations and indulge them in experiences like never before. Without a doubt, it has the potential to enhance the industry's future.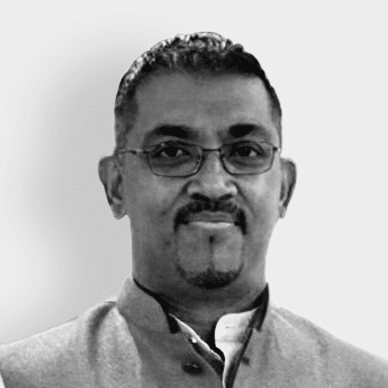 Senior Vice President- SAAS Engineering
An extremely driven and dedicated personnel, Kevin is currently the Vice President of Products at IDS. He has the unique ability to be a strategic leader looking over the entire new development concepts and making them a reality. He works extremely focused in an intense environment and is a result-oriented person. He is responsible for planning, creating and implementing the overall new products strategy. Besides that, he is responsible for setting up the overall strategy for creating company's products and offerings for the future.