The hospitality industry has always been looking for new trends to boost sales and increase revenue. This year, with
FIFA 2022
scheduled to be hosted in Qatar, it has been their biggest free marketing event of the year. However, how well can markets beside Qatar attract guests using this as an excuse? 
The football season of the year has disappointed fans in watching the games in person due to pricey flights and entrance tickets. However, technology has boomed into almost every situation and acting as a perfect solution. Moreover, with FIFA announcing its preference to take the 2026 Football World Cup into the metaverse, the potential of this new technology in the sports industry—and, by extension, the hospitality industry—has increasingly become the current hot topic for football fans.
PR Newswire
revealed that the metaverse market size will reach
$824.53 billion
by 2030, a number no innovative industry can ignore. Could this mean that metaverse will provide better hands-on experiences and opportunities for fans this year compared to previous FIFA games?  
Nevertheless, what's the correlation between the metaverse and the hotel industry? It's no secret that popular local events are one of the greatest ways for hotels to generate non-room revenue. Hotels that take up this opportunity can fast-track without letting guests wait till 2026 for metaverse games. 
FIFA 2022: what can hoteliers do?
This year, football fans are expected to experience full-on through the metaverse platform. According to research commissioned by telecoms software vendor Amdocs, fans hope for an entire ride of 360° video, real-time insights and virtual reality (VR) to interact with the FIFA fandom. Further, this year's games reported as possibly being the last world cup for star players
Messi
and
Ronaldo.
Witnessing these stars take one last bow on the world stage is a tremendous chance for fans who are unable to travel physically. 
The hotel industry around the world can also leverage this major sports phenomenon by offering a complimentary metaverse football experience to enhance its traditional services. However, it is only a matter of fact how well the competition against hoteliers is going to be in providing the best cutting-edge setups to watch the games. 
Give a chance for fans across the globe

The metaverse can facilitate the opportunity for all of us to participate in different types of tournaments—covering a wide range of topics, such as sports, games, and music—hosted by organisations worldwide. Fans can join or view these tournaments by simply logging in, making the event accessible beyond geographical boundaries. This will provide a wide opportunity for hotels to attract new prospects and travellers from across the world. Metaverse fascinates guests as it does not disrupt the limits of geographical boundaries. Hotels overseas can collaborate with their crews or partners in the host country to provide equipment with metaverse compatibility as part of the standard room amenities so that the viewing chances for global fans will be limitless.
Create a viewing experience like no other  

Taking hotel services into the metaverse not only increases the chance of fan viewing opportunities but also elevates the experience to a brand-new level: almost a futuristic adventure that can leave guests in awe. This chance can be extended to fans who failed to get their tickets and want to still watch with other fans, those who are eager to

experience

the metaverse or those who prefer a more laid-back viewing experience from the comfort of their hotel. Further, this is ideal for guests with health concerns who prefer a more seclusive viewing experience away from large crowds and stadiums. 
Boost audience engagement

According to Mckinsey, 79% of consumers active on the metaverse have made a purchase. That said, an engaging audience is the dream of every brand and those who understand the tricks of the trade know that novelty is key to keeping their audience loyal and engaged.The metaverse increases fan engagement with sports and, therefore, with the host hotels that allow them to interact with the metaverse. For instance, a hotel that uses

VR technology

let's fans meet up in virtual rooms and celebrate the wins of their favourite teams, or sportspersons are more likely to get fan bookings.

Virtual fan events allow fanatics to interact with each other in real-time and join other complimentary events—enter interactive actions like chatting with mutual fans during a match, sharing their thoughts on the game or exploring the stadium with an avatar. It also enables guests to live the whole FIFA experience from wherever they are, and the hotel can become known as a brand that exceeds guest expectations with top-notch service.   

 
Modern consumers
expect change and novelty. Moreover, the metaverse will not only open up for FIFA but also for other international games like Olympics, Cricket World Cup and more. Having said that, will metaverse significantly reduce physical spectators to events leaving the hospitality flourished with exciting new opportunities and services for guests?
However, this can be debatable, as seasonal events bring in huge revenues to countries and hotels as international travellers fly in to watch in person. The hospitality industry is highly dependent on seasonal events to increase their profits as it's an advantage never to be missed. Despite metaverse bringing revenue for non-seasonal events happening in other nations, it can damage the revenue brought in by in-house events. 
It's inevitable that the concept of the metaverse will disrupt many industries in the upcoming years, and the hotel industry is no different. Nevertheless, the metaverse will offer plenty of potential opportunities for hotels, as they can take advantage of virtual reality, augmented reality, and similar next generation technology to provide space for memorable virtual interactions. In fact, it is a technology which will bridge the physical gap between hotels and guests which has been an unresolved conflict for years. The hotel industry is one of the strongest for quick rebound and will continue to be challenged year after year with new technologies, events and so on. This is what it makes the industry so competitive and innovative, leading to faster guest attractions.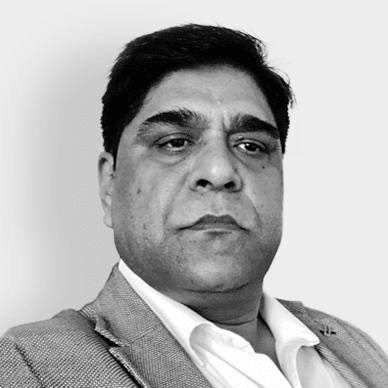 Chief Revenue Officer
As the Senior VP for Middle East & Africa, Rajesh P Yadav lovingly known as "RPY" at IDS is one of our most enigmatic leaders who is extremely capable in strategic planning, business operations and business development. He identifies new potential markets and find ways to build new clients for IDS in these new markets.