Every modern traveller seeks simple, personalised and tech-driven services. Along with the ease in delivering the guest experience, technology has also made hotel operations seamless. Smart technologies can provide the much-needed support for hoteliers to improve the overall performance of their organisation, leading to increased revenue. Sensibly utilising technology in the many functions of the hotels can enable hoteliers to boost their revenue effortlessly.
Streamlining the booking process
The booking process is a real-time interaction between the hotel and the guest. Having a process that doesn't confuse and unnecessarily waste the time of the potential guest is crucial. A well-structured and simple direct booking system will provide an easy booking process to guests, creating a significant boost to the hotel revenue. Hoteliers develop the booking engine to allows guests to make reservations with their preferred language and currency. This will help in creating a personalised booking experience for the potential guests, making them feel satisfied with the service provided. Satisfied guests are an invaluable asset in increasing the hotel revenue.
Streamlining the booking process at the hotel front desk is another way in which hoteliers can increase the overall revenue. Incorporating a hotel front desk management software will facilitate the management of all the front desk tasks within a single platform, enabling the staff to provide a quick booking service to the guests. A software like IDS' FX Front Office Management will allow the front desk staff to view reservations across properties, providing access to real-time room availability. The booking platforms can be updated accordingly, and the accurate information will lead to guest satisfaction which will, in turn, increase the hotel revenue.
Effective marketing
A strong marketing front is vital for a successful business irrespective of the industry. Understanding the standards and trends of the market is crucial if hoteliers want to deliver more to their guests. The average traveller visits 20 different travel websites before making a booking decision. This is where hotel technology could step in to provide the necessary support to hoteliers in standing out from the competition through successful marketing.
Hotel technology could help hoteliers gather and store a vast amount of data in an actionable form. It helps to store details of previous guests, booking enquiries and even subscribers of the hotel website. Data gained through them will enable hoteliers to create a more personalised marketing strategy and to create more targeted adverts based on the preferences of the potential guests.
Increasing staff efficiency
Although it significantly impacts guest satisfaction and, thereby, the hotel revenue, staff performance is usually overlooked in revenue strategies. Studies show that incorporating technology into the daily operations of the hotel leads to 7% higher productivity than hotels that do not incorporate technology. Hotel ERP solutions like IDS' FortuneNext 7.0 will help avoid the monotonous and cumbersome manual tasks that the hotel staff has to carry out. Maintaining inventory, guest profiling, and managing reservations will be made simple and free of operational inefficiencies.
Having a dependable and easy communication channel between employees and management, within and among departments, will also boost the overall staff efficiency. Utilising technological solutions like IDS' FX Housekeeping can provide the ideal assistance for hoteliers to maintain real-time communication. Its mobile application will allow instant task assignments for the housekeeping staff. It also enables automatic and manual task allocations, boosting efficiency, improving the guest experience, and paving the way for increased revenue.
Making informed decisions
The price charged for a hotel room is vital for the business and requires strategic decision making. Having the support of technology will make this process simpler. Software like IDS' FX Pulze provides visualised hotel data and trends, assisting the management in better decision making. It facilitates revenue comparisons by day, month and year and provides statistics based on room type and market segment, enabling more tailored upselling strategies.
Adopting software to handle the influx of data will create an accurate reflection on the current status of the business. It will provide hoteliers with real-time data of finances, reservations, and costs, helping the management set feasible future goals. It will also facilitate ease of inventory management by allowing hoteliers to view average consumption and stock availability. These tools will enable hoteliers to create more relevant and effective strategies to increase hotel revenue.
Technology is a powerful weapon with the potential to heavily influence the overall hotel revenue. Smart tech incorporations in the hotel functions will be key for hoteliers to stay ahead of the game in this competitive industry.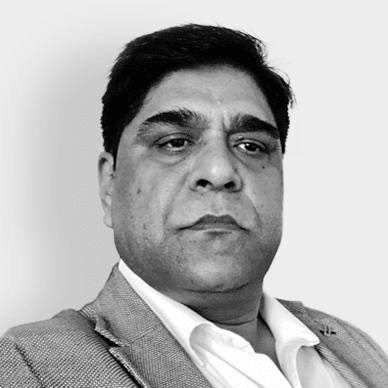 Chief Revenue Officer
As the Senior VP for Middle East & Africa, Rajesh P Yadav lovingly known as "RPY" at IDS is one of our most enigmatic leaders who is extremely capable in strategic planning, business operations and business development. He identifies new potential markets and find ways to build new clients for IDS in these new markets.