The recent years marked a significant change in the world of wellness travel. Not long ago, themes of mental wellbeing and self-love were predominantly associated with female audiences, but today, personal care has broken free from gender stereotypes. As more light is being shed towards mental health and well-being, more men are now embracing the idea of self-care and wellness with the same passion as their female counterparts.
This acknowledgement of the importance of holistic health for everyone is also changing the dynamics of hospitality offerings and the workings of the leisure businesses. Wellness hospitality is rising in popularity in the hospitality world and expanding its audiences, offering products and services to a diverse market.
Wellness is for everyone: the new changes in the hospitality market
What is creating this paradigm shift in hospitality? There are plenty of socio-economic reasons pushing the change.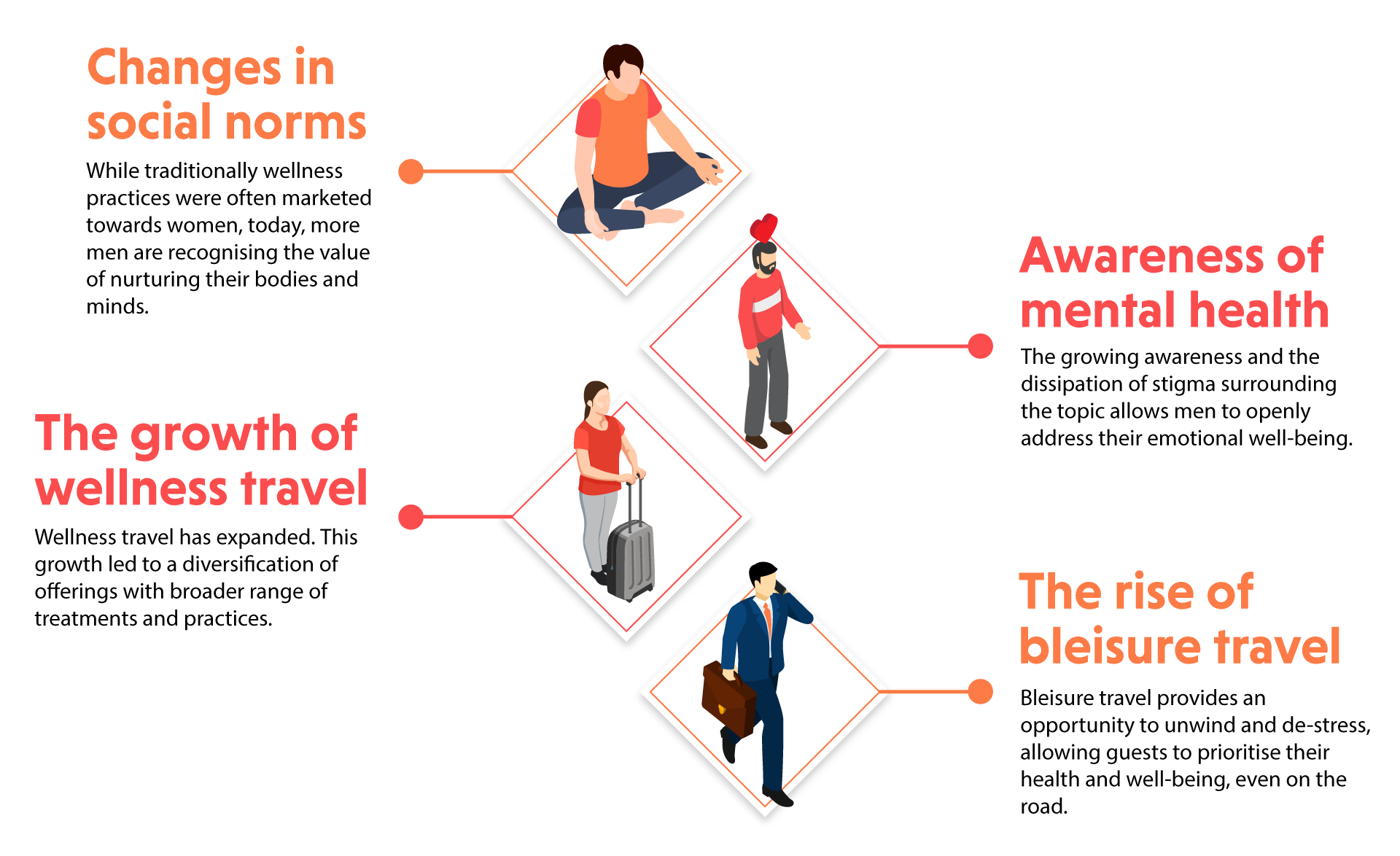 Catering to diverse wellness needs with new strategies
The hospitality industry, including spas, retreats, and wellness clubs, has a crucial role in ensuring that everyone, regardless of gender, feels welcome and comfortable in these spaces. Here are some strategies that can help businesses cater to the needs of male audiences:
1. Provide a range of diverse offerings
Businesses can expand their range of services and treatments to include options that specifically cater to men's needs. Using data saved on POS or booking solutions, wellness centres can gather further information about the wellness treatment preferences of their guests. It is also essential to focus on the purpose of each traveller because the amenities and services they seek differ based on the travel purpose. For example, bleisure travellers would prefer to head to the hotel gym for a quick unwinding session. Escapist travellers will seek a nature retreat with facilities for yoga or a walk through the woods. And those seeking simply treatments specifically would want a comprehensive treatment package at a spa. Therefore, the diversified services may range from specialised massages, grooming treatments, fitness programs and mindfulness practices designed to resonate with each sub segment of the male clientele.
2. Hospitality technology for wellness concierge
For independent leisure establishments, developing or investing in a dedicated mobile app with a built-in wellness concierge feature can be an ideal option. The app can provide information on wellness facilities, offer booking options for spa treatments and fitness classes, and even suggest wellness activities based on guest preferences. Hotels and other establishments can focus on options such as a comprehensive ERP (Enterprise Resource Planning) systems, spa solutions and membership management modules to allow more comprehensive booking details. This can enable male guests to include preferences for treatments, fitness routines, dietary requirements, and more, helping businesses understand what their male audiences need.
3. Personalised experiences
Spa management solutions or comprehensive booking modules collect and store data, helping businesses understand trending services among male clients, seasonal demands or individual preferences such as treatment options, music choices or ambient settings. Digital solutions such as club apps, POS solutions and reservation modules also help create guest profiles, specifying preferences for treatments, exercise routines and dietary restrictions, helping businesses be ready for repeat customers with curated wellness packages. Software solutions that offer membership management features or management systems that seamlessly integrate with existing workflows will further help the wellness sector build customer loyalty and build lasting customer relationships.
4. Have a team of trained staff
As the audiences expand, the staff of hospitality establishments need to be inclusive and trained to be sensitive to the needs and preferences of male guests. This includes providing training on gender-neutral communication and creating an inclusive environment where everyone feels valued and respected. To further respond to the diversity of target audiences, hospitality establishments can also make use of guest feedback, wellness needs and choices recorded on the reservation modules or booking applications. This will help better understand where a business needs to improve and what strategies need to be implemented to welcome new audiences.
Breaking stereotypes and rethinking wellness hospitality
Wellness tourism keeps growing. The rise of wellness travel among men signifies a positive shift towards a more inclusive and enlightened understanding of self-care. As men's mental health and well-being continue to gain prominence, the hospitality industry must adapt to meet the evolving needs of its clientele. Embracing diversity and leveraging innovation help hotels, spas, retreats, and wellness clubs to create spaces where all guests feel valued and supported in their journey towards optimal health and well-being.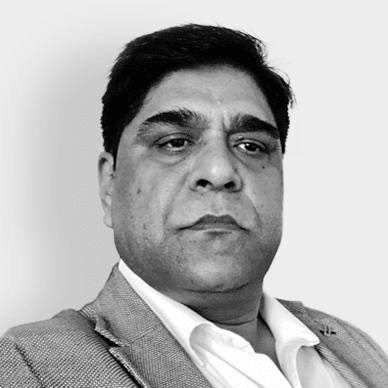 Chief Revenue Officer
As the Senior VP for Middle East & Africa, Rajesh P Yadav lovingly known as "RPY" at IDS is one of our most enigmatic leaders who is extremely capable in strategic planning, business operations and business development. He identifies new potential markets and find ways to build new clients for IDS in these new markets.