Trends to Chase: How hoteliers can stay relevant in 2021.
With the COVID vaccines in the air and in people's veins, will vaccination be the saviour of the hospitality sector?
Last month, we covered some of the trends set by the pandemic. This month, we take a deep dive into the consumer perception changes brought in by COVID and whether the vaccine can tackle all these challenges.
Our March trends article analyses the changes to determine whether the vaccine will be the knight in shining armour for hospitality, leading the industry towards recovery.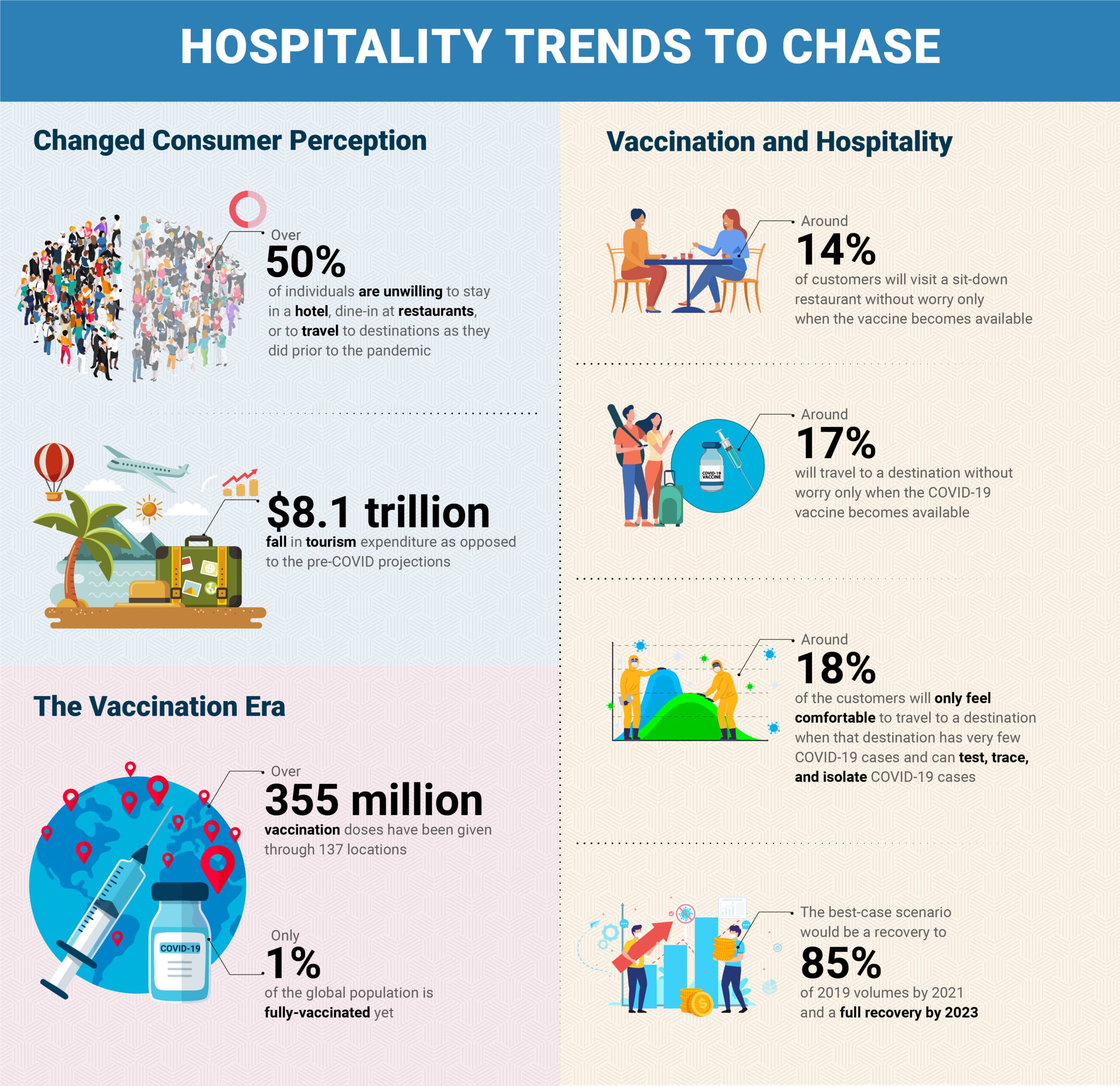 Changed Consumer Perception
A global pandemic is bound to leave scars in people's minds, and consumers will inevitably be forced to rearrange their priorities. People have been rethinking their travel plans, and in fact, over 50% of individuals were not willing to stay in a hotel in recent times. The same is true for dining-in at restaurants. Moreover, more than 50% of people are unwilling to travel to destinations as they did prior to the pandemic. This drastic drop in demand has led to an $8.1 trillion fall in tourism expenditure as opposed to the pre-COVID projections.
Consumers in the post-COVID era are crosschecking with trusted sources to ensure their safety, and they want evidence of the safety protocols implemented. However, in spite of all the nit-picking, people want to travel again, the lengthy lockdowns and stay-at-home mandates made sure of that.
The Vaccination Era
According to the World Health Organisation, at least seven different vaccines across three platforms have been distributed. Currently, over 355 million vaccination doses have been given through 137 locations. Israel stands as the country with the highest COVID-19 vaccination rate of any country worldwide. Although post-pandemic non-restricted plans have already started rolling out with enthusiasm amidst the vaccination spree, only one per cent of the global population is fully vaccinated yet.
The vaccination will develop immunity, ensuring a reduced risk of developing the illness and mitigates the consequences if the illness is contracted. This boosted immunity will assist in fighting the virus if exposed, and it will reduce the likelihood of infecting another. However, health officials continuously insist on adhering to the health guidelines as the extent of the vaccine's effectiveness cannot be gauged in a few months.
Vaccination and Hospitality
The question now is whether this vaccination spree will save the hospitality crisis. Given that recent research has found that a certain group of customers will only feel comfortable in visiting a sit-down restaurant (around 14%) and travelling to a destination and staying at a hotel (around 17%) when the COVID-19 vaccine becomes available (Gursoy et al., 2020). A survey by travel insurer Allianz
earlier this year supported this, revealing that out of 4,300 customers, 49% would travel again given a proven vaccine.
A vaccine is indeed bringing in clearer skies for the hospitality sector, but it is by no means a panacea. Pandemic or not, consumers are going to remain cautious for several years. Travel expert Stella Shon from ValuePenguin, predicts that consumer demand for an "OCD level of cleaning" at travel properties will exist for some time to come.
Furthermore, research has shown that around 18% of the customers will only feel comfortable to travel to a destination and stay at a hotel when that destination has very few COVID-19 cases and can test, trace, and isolate COVID-19 cases (Gursoy et al., 2020). Added to this is the fact that the vaccine will take several months to have a meaningful impact on the society.
This means that the hospitality sector cannot simply throw the sanitisers out the windows and expect guests by the thousands. The sanitation practices, social distancing, and crowd controls will have to continue for the foreseeable future. Reliance on contactless tech, such as FX GeM  will remain until physical interactions are deemed safe by healthcare personnel. Also, recovery will not occur overnight or even at the rate of vaccination. McKinsey & Company predicts that the best-case scenario would be a recovery to 85 per cent of 2019 volumes by 2021 and a full recovery by 2023.
"The good news is that consumers' desire to travel remains incredibly resilient and that pent-up demand bodes well for the travel industry in the long run, especially considering the advances…in the development of a vaccine," says Steve Kaufer, the CEO of TripAdvisor.
Want to know how IDS Next products will benefit your property?