Trends to Chase: How hoteliers can stay relevant in 2021.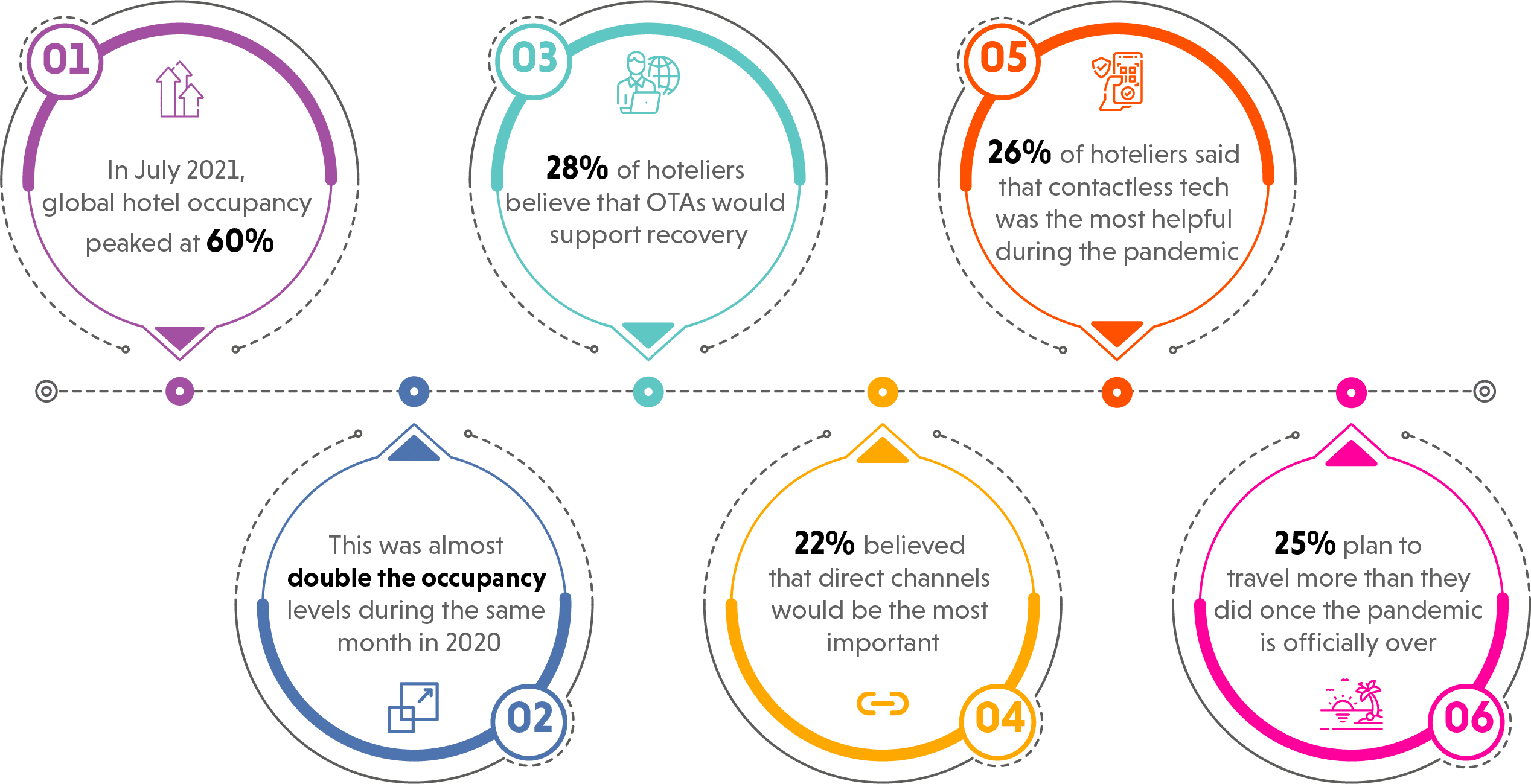 The highlights of 2021
2021 may not have been the easiest for the hospitality industry, but this year saw much more growth within the industry. While demand and resources fluctuated as COVID levels rose and fell, hospitality organisations have been navigating this uncertainty with the help of tech.
The final trends article of this year takes a look at the trends that affected, and will continue to affect, the global hospitality industry.
Performance growths
Although the industry is yet to reach pre-pandemic levels of occupancy, in July 2021, global hotel occupancy peaked at 60%, which was almost double the occupancy levels during the same month in 2020. While 2020 saw steep declines in occupancy levels, this year has been one of steady growth, with less drastic changes on a global level.
Region-wise and country-wise, however, the fluctuations were more pronounced. Although Asia maintained a steady occupancy level between 30% to 40%, China's occupancy levels severely changed, peaking between July and August at around 60%, then falling to nearly 30% by the end of August. Europe, on the other hand, maintained more consistent growth, rising from nearly 10% occupancy levels in January 2021 to almost 60% occupancy by September.
The booking channel dilemma
During the height of the pandemic and as soon as regulations started to ease, direct booking brought in much more revenue for hoteliers than OTAs. However, as the industry rebuilds, indirect channels are, once more, gaining prominence. OTAs were considered as important as direct booking for recovery, with 28% of hoteliers believing that OTAs would support recovery in 2021, while 22% believed that direct channels would be the most important.
As hotels navigate into a year of growth, with lesser restrictions and reduced contamination fears (through vaccinations), they could consider a mix of booking channels. While the reliability of safety-related information may draw some customers to direct booking, the customisable searches and price comparisons can attract another set of customers to OTAs. Hoteliers should be vigilant of the market conditions and implement digital marketing strategies that will attract customers to the most-suited channel.
Contactless tech saving the day
It is hardly a secret that most of the recovery of the hospitality organisations was made possible through contactless technology, with nearly 26% of hoteliers stating that contactless technology was the most helpful during the pandemic. From check-in and check-out to in-stay services, this technology paved the way for safe hospitality experiences. 15% of global hoteliers implemented contactless in-stay services, and 20% of them expect to continue these practices into the coming months. In addition to creating safer guest journeys, hoteliers have identified ways in which contactless tech can enhance the guest experience.
Revenge travel
The lockdowns and other movement restrictions led to pent-up travel desires, which eventually created a wave of revenge travel as restrictions eased. According to Tina Edmundson, global brand and marketing officer for Marriott International, revenge travel is the act of making up for lost time, as well as lost opportunities.
During summer, over 200 million people in the US had travel plans, and 25% stated that once the pandemic is officially over, they plan to travel more than they did pre-pandemic. Recent polls have found out that the more the crisis deepens, the more the desire to travel increases. This inevitably means that despite the temporary setbacks the industry may face as new variants rise, travel enthusiasm will most certainly not die out, and people are only too eager to restart travel.
Want to know how IDS Next products will benefit your property?