Trends to Chase: How hoteliers can stay relevant in 2021.
When the travel restrictions started bearing down on the early day of the pandemic, hopes were still high that come 2021, the challenges of 2020 would blow away. Although this expectation did not hold true, a dive into consumer intentions show that people are nonetheless eager to restart travel. Once travel restrictions are lifted, this enthusiasm will transform into rising business opportunities for the hospitality sector.
This month's trends article analyses the travel enthusiasm of consumers during lockdowns as evidence for a definite recovery for the sector.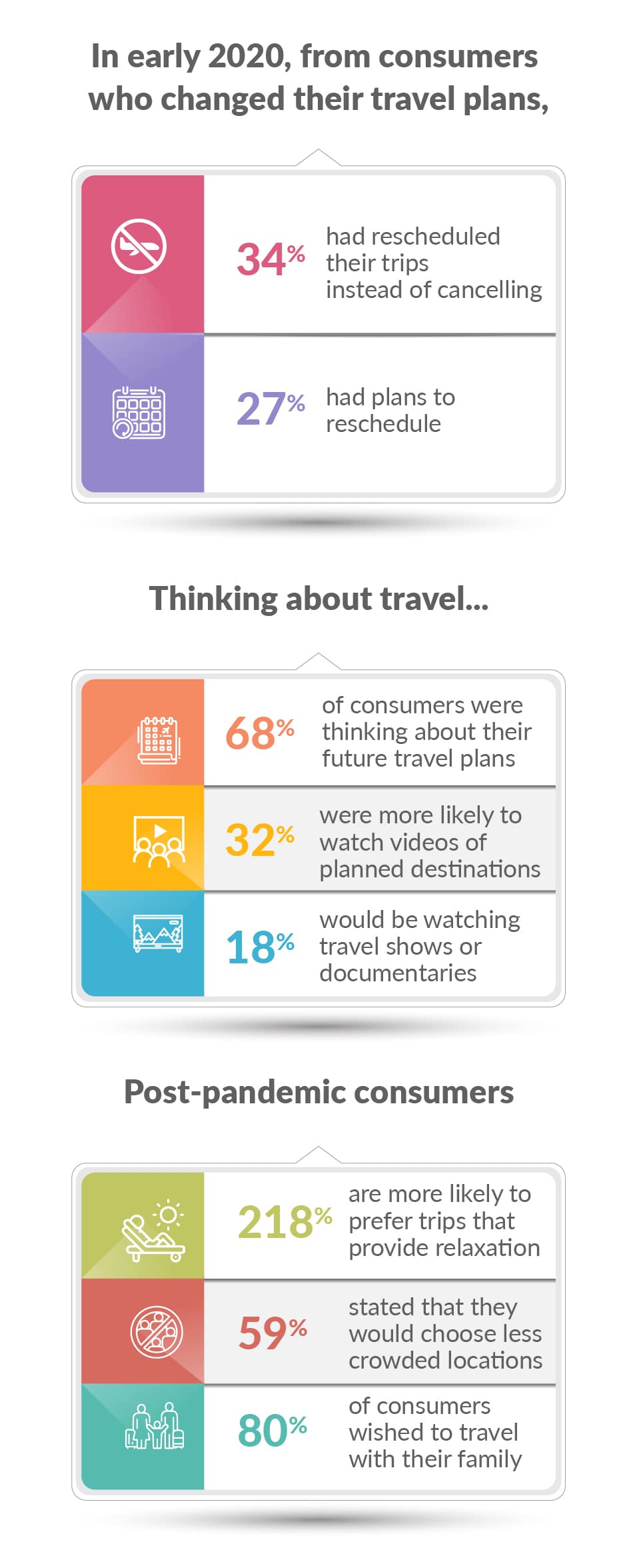 The state of hospitality
According to the Hospitality Global Market Report 2021: COVID-19 Impact and Recovery to 2030, the global hospitality market stood at $3486.77 billion in 2020. The Asia Pacific region held the largest portion (45%) of the market, while North America stood the second largest with a 25% share of the global hospitality market.
The report predicts the market to grow to $4132.5 billion in 2021. This growth will be owing to hospitality organisations rearranging their operations in light of the changes brought on by COVID-19. Using technologies that transform the customer experience while achieving operational improvements and cost savings will encourage this growth.
Demand holds strong

Despite the sharp increase in booking cancellations in early March 2020, TripAdvisor's report, 'Beyond COVID-19: The Road to Recovery for the Travel Industry', shows hope for the industry. From the consumers surveyed, 34% had simply rescheduled their trips instead of cancelling, and another 27% had plans to reschedule. In addition to that, 40% of consumers stated that their travels plans changed not necessarily by choice, but because their destination was closed for visitors. Also, 41% of consumers believe that they will be taking the same or more trips than last year. This suggests that when restrictions gradually ease, people will restart travel with the same, if not increased, enthusiasm.
Even when strict lockdowns confined people to their homes, travel plans were not far from their minds. In April 2020, 68% of consumers stated that they were thinking about their future travel plans, 32% were more likely to watch videos of planned destinations, and 18% would be watching travel shows or documentaries. These pent-up travel desires will inevitably lead to a surge of revenge travelling once the opportunities arise.
International travel will be slower to recover than domestic travel due to the combination of travel restrictions and people's risk perceptions. Even so, short-distance trips will recover much faster, with 28% of consumers opting for short international flights. Once restrictions ease, long-distance travel will quickly follow this increasing trend.
Points of change
In February, we outlined the trends set by COVID-19. These will be the focal points for the returning consumers. Given that the movement restrictions within specific regions will be removed first, people will be more inclined to travel closer to home. 61% of consumers surveyed by TripAdvisor stated that they preferred taking a road trip for 3 to 5 days, possibly because such trips involve lesser physical interactions.
Also, consumers are more drawn towards peaceful and uncrowded destinations. Post-pandemic, consumers are 218% more likely to prefer trips that provide relaxation, with 59% stating that they would choose less frequented locations over the more popular destinations.
Furthermore, after a long period of isolation, people will be looking to reconnect with family and close friends. In fact, 80% of consumers wished to travel with their family after the pandemic, and 60% preferred to travel with one or two friends.
The hospitality sector has been through a series of unexpected challenges over the past year. Although it may seem as if the trials are far from over, this fact analysis suggests that there is much hope, fast approaching around the corner.
Want to know how IDS Next products will benefit your property?