Technology is undoubtedly one of the biggest influencers on people's behaviour. Mobile tech is one of those revolutionary tools that has completely changed the way guests and employees engage in hospitality processes.
The preference for mobile
Research shows that around 85% of international tourists use a mobile device during their travel, and 2 out of 3 last-minute bookings are made through mobile devices. Also, 88% of guests prefer to engage with a mobile application that can create a personalised experience.
Mobile technology was a trend on the rise for several years, and, needless to say, the pandemic accelerated the demand for mobile processes. As travel picks up the pace again, 80% of guests will download a hotel app for check-in and check-out and find hotel information. This marked a 10% increase from March 2020. Moreover, guests want apps that can open their room door, with 73% indicating that they would download such apps. All of this highlights that mobile tech is now crucial for the hospitality sector.
The changes from mobile
Easy communication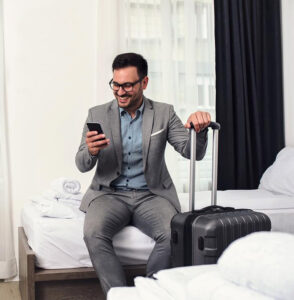 Communication is one area that mobile technology has completely revolutionised. Today's generations have lived through an age of mobile and have experienced the convenience brought in by mobile tech when staying engaged with their friends and family. Employees and guests will expect this same level of engagement from companies, and consequently, from the hospitality sector as well.
Guests no longer want to go in search of the hotel staff when they need a service or information. They also expect the staff to be easily reachable 24/7. In addition to that, they want to be able to engage with the staff, pre-stay, during stay, and post-stay. Having to go through several steps to communicate with the hotel staff is most likely to affect guest satisfaction negatively. Replacing filling forms or making phone calls with simple mobile apps that can maintain communications with the guests will go a long way in building healthy relationships with guests while catering to their mobile-influenced behaviour.
Employees too expect workspaces to maximise communication techniques. This is especially important following the pandemic, which paved the way for hybrid workforces. Most younger employees lead endlessly connected lives with seamless communication, and if their workplace does not reflect that networking system, they will not be motivated to work.
Hospitality organisations can take this a step further by incorporating AI-based chatbots to facilitate communication. a chatbot can carry out conversations with the guests 24/7 providing them information anytime through their mobile phones. This will also improve employee efficiency by enabling employees to reach the chatbot for any queries, which can direct them to a human supervisor if needed.
Accessible information
Mobile technology has made information easily accessible to everyone with a few taps and clicks. People now expect this availability to prevail throughout all industries. This behaviour pushes hospitality organisations to ensure that they share up-to-date information with their guests and employees.
The simplest method to do this is by creating a mobile-friendly website through which information about the organisation is readily available. Moreover, a good mobile app for the organisation is becoming mandatory for easy information sharing. Guests should be able to find out the services the hotel offers, information about the hotel's surroundings, and of course, the hotel's safety guidelines.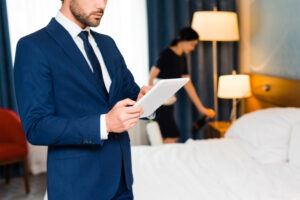 For employees to perform efficiently, they need access to easily accessible and updated information. For instance, FX Pulze provides the hotel's performance statistics with graphical representations in an intuitive mobile app, enabling easy and accurate decision making. Supervisors can keep better track of their employees' tasks if they have easy access to task assignments information, and staff schedules. Solutions such as FX Housekeeping allow the housekeeping staff to instantly assign tasks by using the updated information on housekeeping duties received through the app.
Personalisation
Mobile technology is driven by personalisation. From colours and themes to services offered and promotions presented, this technology gathers information to provide personalised experiences for its users.
Irrespective of the influence of mobile technology, hospitality organisations have long since recognised the value of personalised experiences. What they must note is that their personalisation strategies must be simple and efficient as is provided through mobile technology, since that is the level of personalisation that guests expect from hospitality organisations.
While guest experience personalisation is well-known, another important aspect of personalisation is workplace personalisation. Just as the guests expect a certain level of reflection mobile technology values in organisations, employees too expect mobile tech advantages to be present in their workplace.
Incorporating mobile apps that can capture and analyse the culture, physical needs, and financial aspects of a workplace and tailoring it can have an immense impact on employee efficiency. The next-generation workspaces must be flexible enough to accommodate rapid changes and also built to reflect the values and work ethics of the employees and the company.
This preference for mobile tech from today's generations demands hospitality organisations to adopt mobile tech into their processes. These processes will not only cater to the mobile tech influenced-behaviour of employees and guests, but also boost efficiency and improve the guest experience.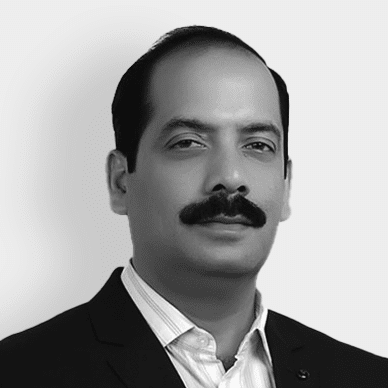 Senior Vice President - Sales, South Asia & South East Asia
He brings extensive industry experience and a track record of success in selling technology and services to global clients across hospitality markets. He has proven to be essential and crucial Sales personnel who is primary involved and contributing to acquiring new clients in South Asia and South East Asian regions.