Trends to Chase: How hoteliers can stay relevant in 2021.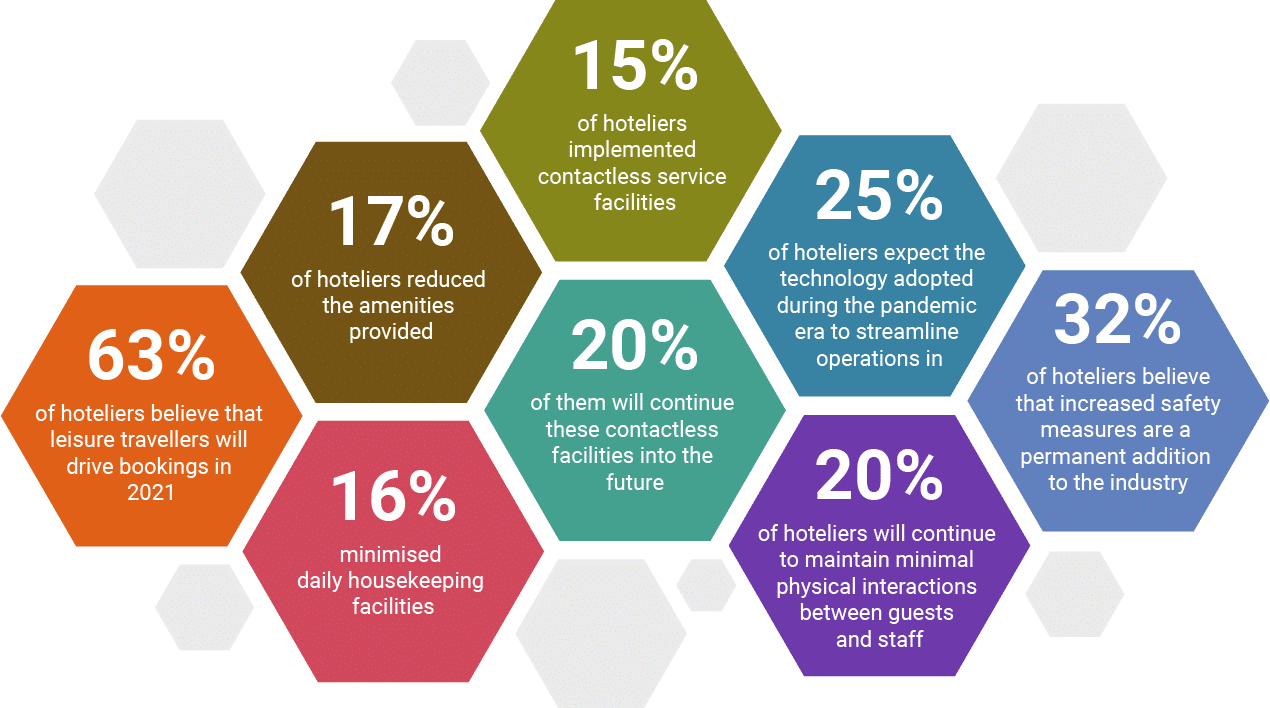 Post-pandemic change and recovery for hospitality
Since it is clear that people's love for travel remains and that hope is just around the corner for hospitality organisations, the focus now is on the actionable trends that will drive recovery. September's trends article will focus on a few points of recovery and change that hospitality organisations can leverage to plan for their recovery.
Points of recovery
While global occupancy levels plummeted by February 2020, this year is seeing a steady rise in occupancy. In 2020, global occupancy rates stood at a mere 13% of the previous year. However, by April 2021, this rate shot up to 46%. A look into global hotel industry records shows more than 60% increase in net reservations within this year. This suggests that as restrictions ease and the world gradually learns to tackle the pandemic, travel will be back on people's agendas.
Nonetheless, this recovery will be varied across regions as well as across different travel segments. Encouraged by domestic travel, China and North America had the highest occupancy levels. Asia followed with 34% occupancy, but there were notable differences within the region depending on the travel guidelines. So, when planning for recovery, hoteliers must be aware of the specific trends of each of their targeted regions.
Furthermore, the domestic leisure segment is expected to be the first to recover. Research points out that 63% of hoteliers believe that leisure travellers will drive bookings in 2021, making the largest contribution to the industry's recovery. 22% of hoteliers believe domestic business guests will be the second-best contributors to recovery, while several hotels have already implemented strategies to accommodate remote workforces.
Points of change
In the post-pandemic recovery stage, hoteliers will have to rethink their operations, tuning them to suit the changed consumer sentiments while being cost-effective. For example, 17% of hoteliers globally reduced the amenities provided while 16% minimised daily housekeeping facilities in response to the pandemic in order to cut back on costs. When stepping onto the road of recovery, hoteliers will have to rethink which of these operational changes their property will take forward.
Most technology-related operational changes are certainly here to stay. Research suggests that 25% of hoteliers expect the technology adopted during the pandemic era to streamline operations in the long run. Globally, 15% of hoteliers implemented contactless service facilities, and 20% of them will continue these contactless facilities into the future. Moreover, 20% of hoteliers worldwide will continue to maintain minimal physical interactions between guests and staff.
Unsurprisingly, the extra cleaning and hygiene protocols adopted during the pandemic will also be carried on to the road of recovery. 32% of hoteliers believe that these increased safety measures are a permanent addition to the industry.
As hoteliers move forward on the road to recovery, contactless guest technologies can be transformed into guest experience-enhancing tools. 24% of hoteliers worldwide stated that technology that enabled personalised guest experiences is one of the best advancements born through the pandemic. As hotels strive to reclaim bookings, offering unique experiences through the use of tech will be crucial to a speedy recovery.
Want to know how IDS Next products will benefit your property?