Trends to Chase: How hoteliers can stay relevant in 2022.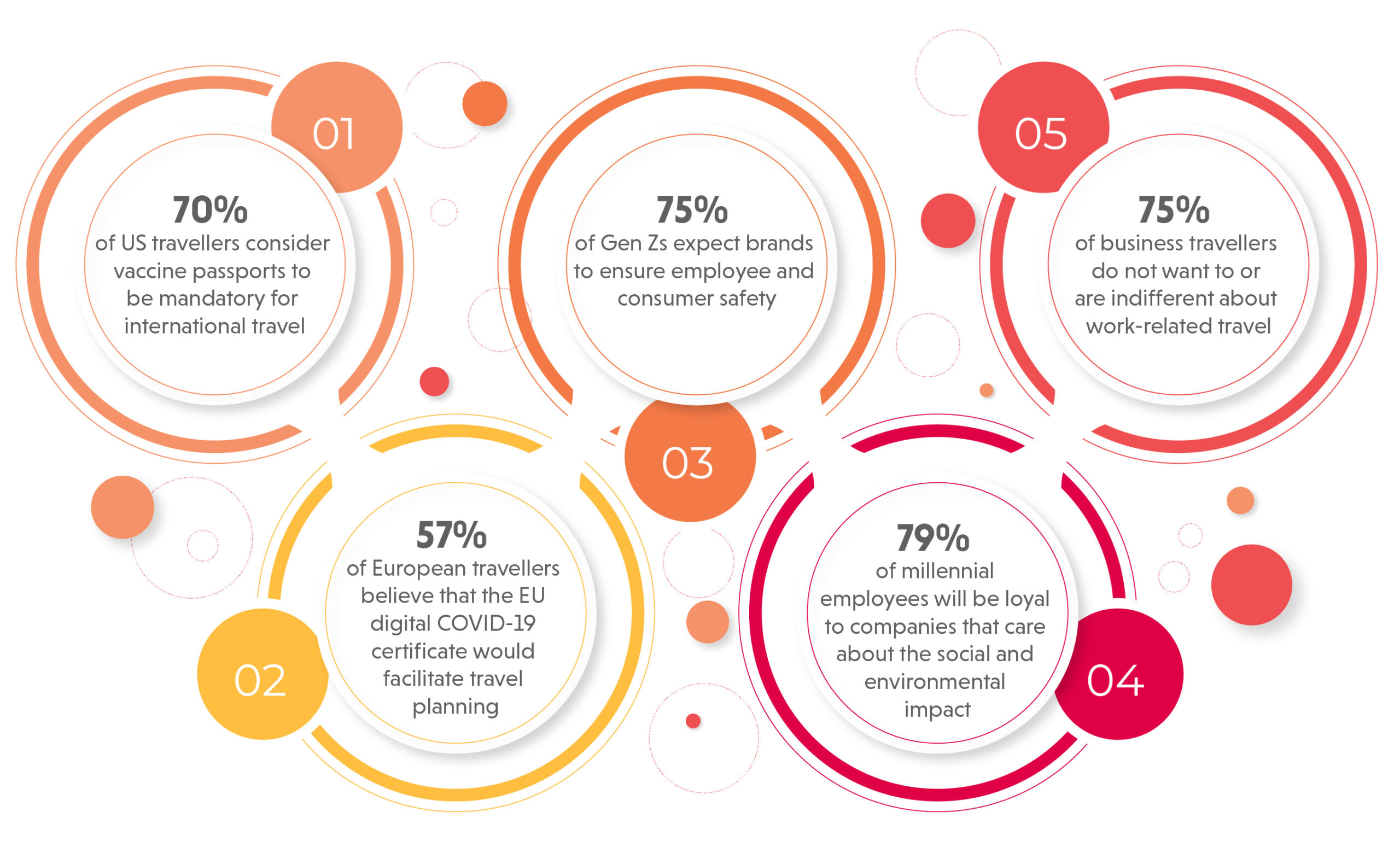 The trends that will shape 2022
Every new year is an opportunity for the hospitality industry to embrace the shifts in the market. Following the pandemic, many changes were set in motion that are bound to last well into 2022. With 53% of the global hotelier community expecting pre-pandemic occupancy levels to resume in 2022, this year will certainly be a year of recovery and growth for the industry.  
This month's trend article looks at a few key trends that will shape the hospitality industry in 2022.  
Safety

rem

a

ins high priority 
While vaccinations have reduced the possibilities of contamination, travellers still prioritise heightened health and safety procedures. The European Travel Commission found that over 50% of travellers prefer to stay at hotels or independents resorts than at short-term rentals since they believe that such accommodations can offer a better guarantee of cleanliness. Hospitality organisations must continue to showcase their health and safety measures on their website and at the premises as research shows that travels continue to feel safer if post-COVID safety measures remain in place in destinations.  
Additionally, proof of vaccination will also play a vital role in 2022 travel. 70% of US travellers consider vaccine passports to be mandatory for international travel, while 68% believe that this requirement must extend to domestic passports. The wave of vaccine passports became prominent across Europe as well, with 57% agreeing that the EU digital COVID-19 certificate would facilitate travel planning.  
Rising importance of sustainability
It is no secret that millennials and Gen Zs are more environmentally and socially aware than their predecessors. With these generations gaining more and more spending power, their sentiments will set the trends for the coming year. These generations will drift towards brands that incorporate sustainability practices and are transparent about their operations.  
With almost 70% of travellers expecting eco-friendly travel options, and 75% of Gen Zs expecting brands to ensure employee and consumer safety, ensuring sustainability will become mandatory in 2022. Not only the consumers, but employees are also increasingly searching for sustainable workplaces. Forbes stated that 79% of millennial employees will be loyal to companies that care about the social and environmental impact.  
Less business, more leisure travel
While pent-up travel desires and the continued lockdowns will inevitably lead to a surge in leisure travel, the new remote methods of work and flexible work styles will lead to a decline in business travel. Along with this, increasing popularity of online training, webinars, virtual and hybrid events, will further cut down on the need for business travel. Research by PWC showed that 75% of business travellers do not want to or are indifferent about work-related travel.  
While leisure travel will pick up pace faster, it will also undergo a few changes. Post pandemic, travellers are seeking more meaningful experiences that can reconnect them with family, friends, and local communities. Moreover, Forbes found that across regions, people are swapping air travel to travelling by car or by train, preferring to enjoy more fresh air than go through rigid airport procedures. Moreover, these modes of travel allow cheaper group travel, which is another form of leisure travel that will be on the rise in 2022. Big Cottages, a holiday accommodation service in UK, alone recorded a 600% rise in bookings for groups over 20 people.  
Another interesting change in leisure travel in 2022 is pop-culture-based travels. The months and months of lockdowns led to an unprecedented rise in popularity for streaming services and people's wanderlust was satisfied by popular media. As restrictions ease, people will inevitably want to experience these destinations they enjoyed through screens. A report by UNWTO and Netflix that assessed the connection between movies and tourism found that Porthgwarra in Cornwall saw 50% more tourists following the success of the series Poldark.  
COVID, vaccinations, tech developments, and newer generations will continue to shape the hospitality industry in the coming year. While some of these changes may be unexpected, all of these new trends provide hospitality organisations with new opportunities to create unique traveller experiences.  
Want to know how IDS Next products will benefit your property?