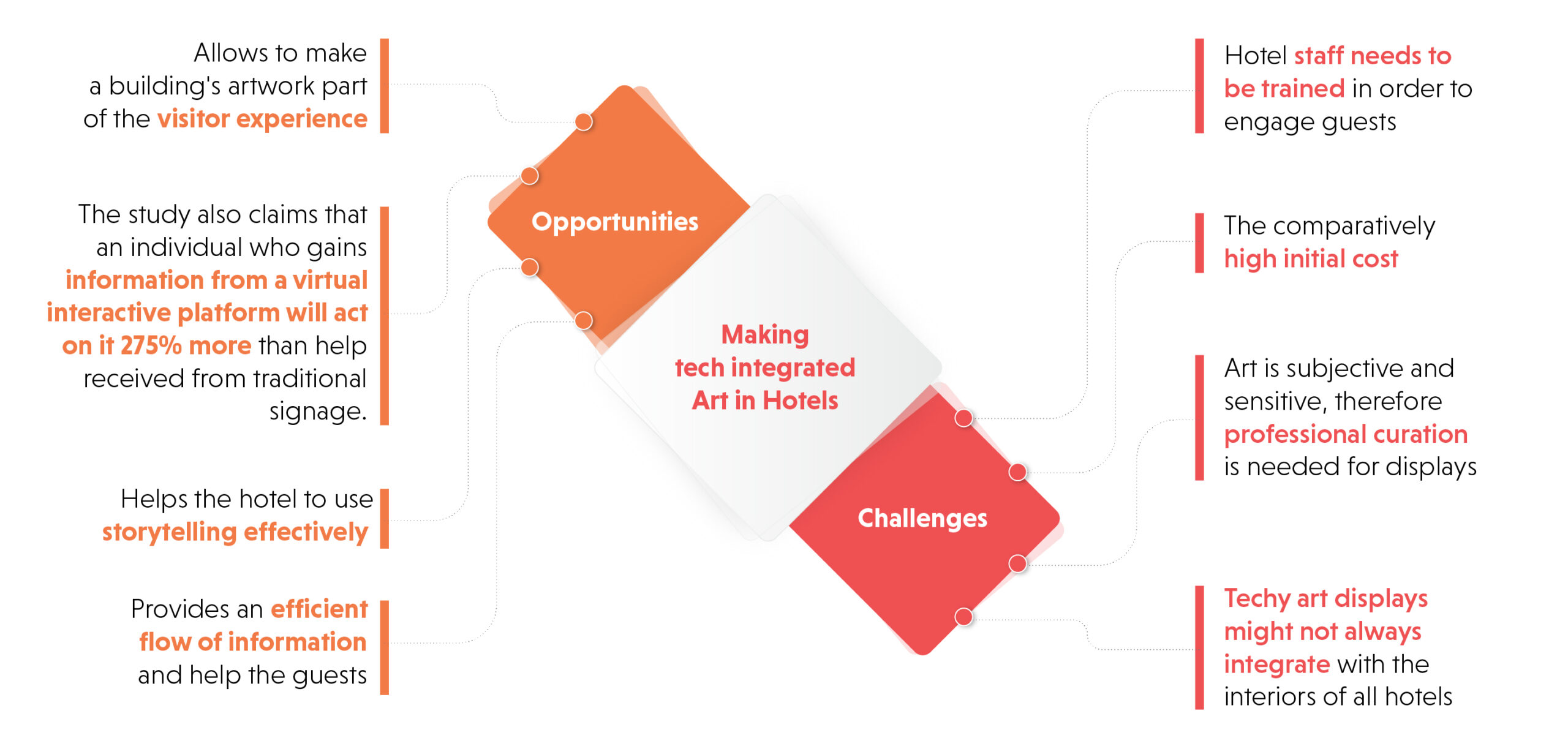 Trends to Chase: Hotel art and interior deco with technology; booming opportunities for hoteliers
Perhaps no element of a hotel is as changeable as its artwork—and no design trend changes as quickly as what artwork guests expect to see when they walk in the door. However, with "authenticity" going from industry buzzword to baseline in a short period, and with technology making it easier than ever to connect guests to their locations, hotel artwork has to constantly evolve.  
High-Tech Artwork
LIDA—live interactive digital art—makes a building's artwork part of the visitor experience. Therefore, LIDA should emphasize engagement rather than promotion. Digital signage in a lobby has several advantages over traditional signage. First, it's bright, very well placed, and eye-catching. In addition, because much of the signage is interactive, guests can touch the screens to learn more about the Hotel and its surrounding area, from restaurants and stores to upcoming events. In Manhattan, the Renaissance New York Midtown provides a high-tech experience when guests walk in the door. Text Box"The Hotel wanted to bring in some interactive video elements to share information but also to entertain the guests while they're waiting to go off to the main lobby on the sixth floor," recalled Michael Pandolfi, principal and design director at Jeffrey Beers International Because this hotel was in the city's fashion district, the Jeffrey Beers team developed graphic patterns of fabrics and stitching that could be projected onto the walls to give guests an immediate sense of place. In addition, the team added a digital display by the entrance with information on nearby events, restaurants, shopping venues, and shows to keep guests updated on what is happening in the area. This is also shown effective by how well interactive design and art can help guests. PwCs findings state that when information is presented virtually, receivers of that information grabbed it 4% faster. The study also claims that an individual who gains information from a virtual interactive platform will act on it 275% more than help received from traditional signage.
How to surf this trend and what to look out for
As hotel design focuses on a narrative, the artwork has to feed a story. Murals are another popular way to give the property a sense of place. A hotel owner or designer needs to dig into the local culture of their property. However, this localized experience is unique and needs to be customized for the specific location. Giving guests a sense of place and heritage can be as simple as using photographs of local attractions to something much more complex, like curating unique installations from local artists or using regional materials to produce and construct something dimensional. Graphics can range from a custom unique pattern to historical references to tell a story to bright, colourful imagery to add a little extra pop. Immersive artwork can be fun and eye-catching, but the cost can be prohibitive. In 2014, the industry was excited about the possibility of 3D map projecting and what that could mean for creating different kinds of experiences within the same space. However, the equipment that delivers the best experience for guests tends to be expensive to purchase and operate. Ultimately, art helps to tell the story of the space the guests are within and the significance of so many other factors that make the experiences provided by the Hotel extra worthwhile.
Want to know how IDS Next products will benefit your property?