Trends to Chase: How hoteliers can stay relevant in 2021.
More than a year in, and COVID-19 is still dominating discussions all over the world. Although business as usual might be a long time in coming, business, in some way, must continue. Harnessing the season's trends will not only allow hospitality organisations to navigate through these trying times but also allow them to grow and emerge stronger.
This month's article focuses on a few trends that will allow hospitality organisations to create personalised customer experiences and grow through the pandemic.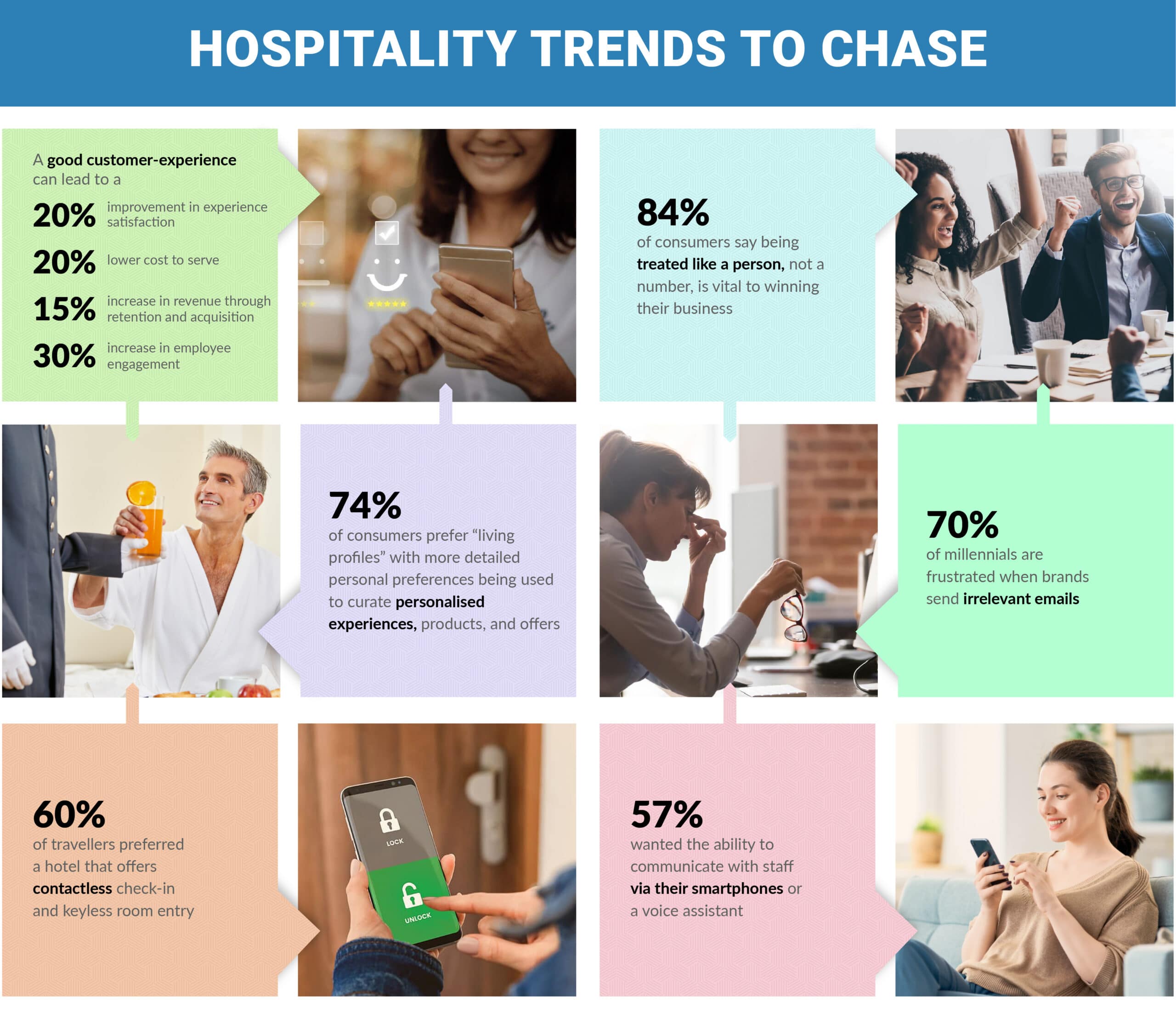 Personalise, personalise, personalise
Today's guests have a growing expectation of being recognised and treated as individuals. Travel is a highly personal matter, with no guest seeking the same experience. Personalisation post-COVID must strive to capture the individual requirements of each guest. According to Salesforce, 84% of consumers say being treated like a person, not a number, is vital to winning their business. Accenture found out that 74% of consumers prefer "living profiles" with more detailed personal preferences being used to curate personalised experiences, products, and offers.
For this, hospitality organisations must begin viewing the guests in light of their changing needs and perspectives. In a previous article [linked to Feb Trends article] we explored the changed guest sentiments due to COVID. Hospitality organisations can begin viewing their guests in smaller segments of varying types, or as individuals (this may only be possible for small businesses), in order to capture the guest's unique sentiments and fine-tune experiences.
Promotions and offers
Targeted marketing is another aspect of personalising the experience to the guests. The pandemic was a tough blow on everyone. At this point, an experience that will provide the much needed safe-escape while being easy on the pocket will not go unnoticed. However, most promotions and offers end up being ignored at best or, at worst, cause frustration towards the brand. This happens mostly through irrelevant promotions. As SmarterHQ found, 70% of millennials are frustrated when brands send irrelevant emails.
The trick is to ensure that promotional offers truly speak to potential guests. From nudging up the demand to easing COVID- induced travel anxiety, hospitality organisations can use promotions as a tool to encourage customers to travel while assuring their commitment to upholding health and safety standards.
Digitised solutions
COVID accelerated the digital revolution by several years. During its "Global surveys of consumer sentiment during the coronavirus crisis" by McKinsey & Company, it was found that consumers and businesses vaulted five years forward in digital adoption in a matter of eight weeks. These advances are here to stay since 75% of people using digital channels for the first time indicated that they would continue to use them when things return to 'normal'. Furthermore, in a recent survey by Skift, 80% of travel leaders stated that proceeding with digital-transformation activities in light of COVID-19 is more important.
From mobile room keys to remote staff management, digitised solutions can take over both employee-facing and staff-facing aspects of hospitality organisations. Reducing touchpoints by going contactless is now the norm, and the guests of the COVID era expect such technologies to be in place. A survey by Skift and Zingle found that 60% of travellers preferred a hotel that offers contactless check-in and keyless room entry, while 57% wanted the ability to communicate with staff via their smartphones or a voice assistant. So, for hoteliers to satisfy their guest's expectations, incorporating digitised solutions has become mandatory.
All hospitality organisations aim to provide their guests with a memorable experience. This aim can also pave the way for organisations to emerge out of this pandemic stronger, as proved by a McKinsey survey which found that a good customer-experience can lead to a 20% improvement in experience satisfaction, a 20% lower cost to serve, a 15% increase in revenue through retention and acquisition, and a 30% increase in employee engagement.
Want to know how IDS Next products will benefit your property?