The down is the new up in tourism. Tourists are looking for views other than the city overviews or the mountains overlooking the clouds. Hotels and restaurants built underwater are promising that novelty.
Travel and tourism are becoming an essential part of modern life, making new tourist experiences surge from every part of the world. One such novelty in tourism is underwater hospitality, which is now growing at a CAGR of 13.60%. Research predicts the global underwater hotels and resort market to reach 11.6 billion by 2032.
Due to their ability to provide fascinating experiences, amusement, and adventure beyond imagination, the tourist population are increasingly inclined towards these new constructions.
Factors driving the growth of underwater hospitality
Sleeping and dining underwater became a reality with the first invention of submarines in 1866 but the experience they provided were far from comfortable lounging or leisure arrangements.
In contrast, underwater hotels and restaurants provide all the aspects of luxury hospitality, including spas, bars, swimming pools, gyms and even custom-made services. However, the question is, what makes it unique from an average land hotel or restaurant?
Underwater Hospitality
How Hotels and Restaurant Underwater Work
Underwater hotels and restaurants facilitate tourists to experience the marine world which covers nearly 70% of the earth. 80% of that is deep sea.
They also enable humans to make use of deep sea resources such as energy, water and CO2 for better accommodation.



Materials used in underwater construction
Materials used for constructions underwater must withstand multiple external factors such as, water pressure, corrosion, and erosion.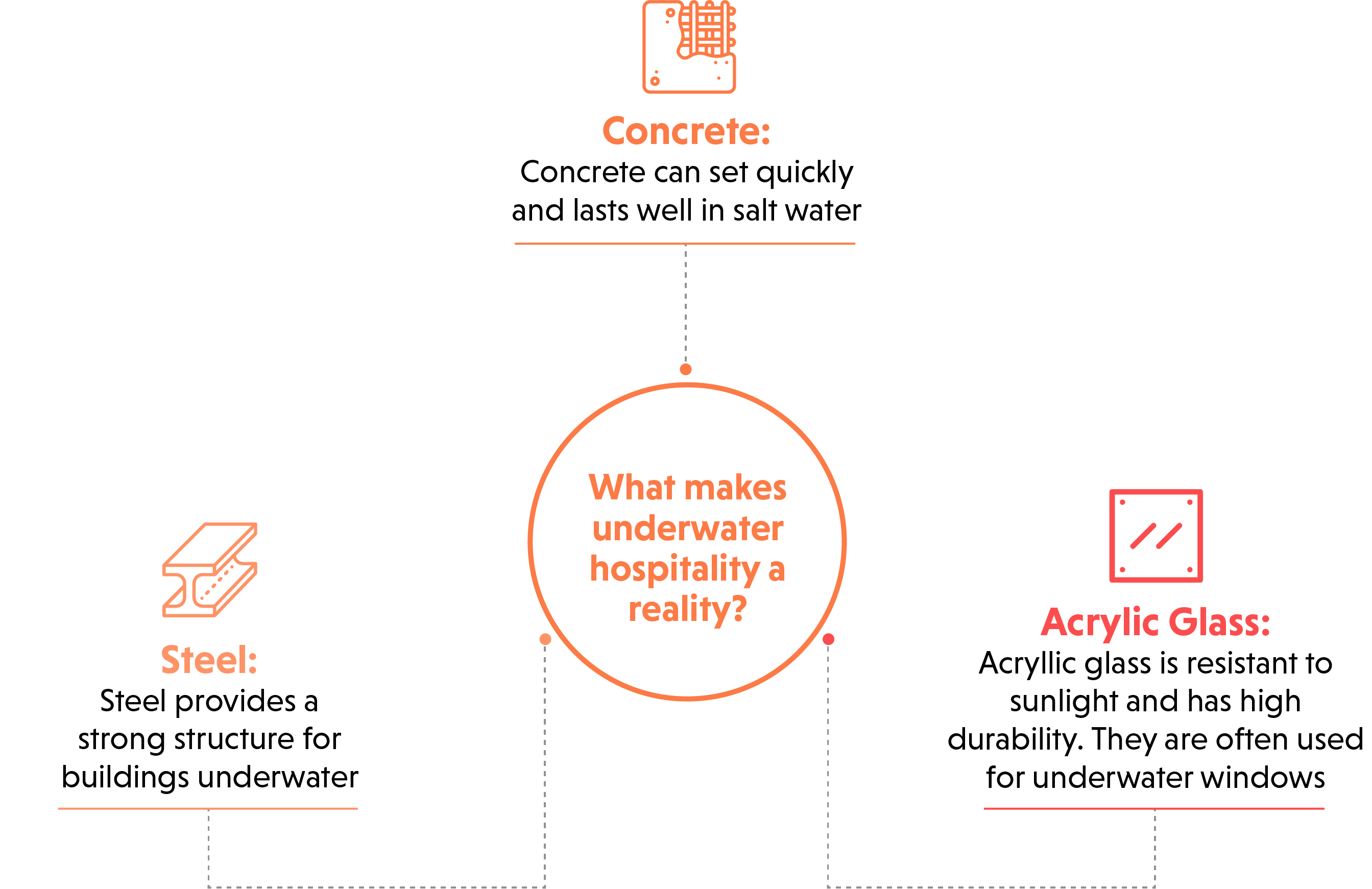 Challenges around the popularity of underwater hospitality
Even with the robust demand for underwater hospitality and various attempts by global brands to build underwater hotels and restaurants, certain challenges still make it difficult to develop and popularise them.
1. Demanding maintenance needs
It takes quite an effort from business owners to maintain the quality of services and products underwater. They must invest in special technology to counter water pressure, specific techniques to fight buoyancy and unique strategies to protect and maintain facilities against decay. This challenge will be highlighted when trying to co-exist with salt water, a particular catalyst for rust and corrosion.
2. High cost of services
The services, experiences and amenities provided underwater are one of a kind; this makes such facilities sometimes exceed the average market prices. The special maintenance and operational needs of underwater hotels and restaurants have made it essential to label aquatic facilities with high costs. While these venues are already the favoured destinations of ultra-high-net-worth individuals across the globe, the high price might still prevent average tourists from enjoying them.
3. Environmental issues
Underwater hotels and restaurants are facing several environmental issues, including recycling wastes before dumping them into the ocean. Another concern is the disruption to underwater life, which have made several environmental enthusiasts stand against artificial underwater habitats; such constructions may require changes to the aquatic habitats, such as the removal of corals, rocks and seaweeds or emitting bright lights that disturb the sleeping habits of marine animals.
4. Health and safety risks
The atmospheric pressure underwater is another concern surrounding underwater accommodation. The atmospheric pressure in any underwater destination built for humans must be the same as land to allow tourists to spend their vacation without risking health hazards. Additionally, tourists are also concerned about safety risks such as natural disasters. Underwater hotels and restaurants requiring helicopter or boat travel to reach the location can also be a barrier for guests with mobility issues.
Making underwater hospitality a reality
Some of the leading hospitality names are already following innovative solutions to mitigate the above challenges and make luxury underwater a commercial reality.
Using mobile applications for uninterrupted communication
Mobile applications help build connectivity, allowing guests to view immediate notifications or request personal service. These applications allow the hotel/ restaurant staff and guests to always be connected; it keeps guests updated about notices even during emergencies, enhances guest safety around the property and even lets guest request specific amenities.
To resolve signal strength and connectivity, businesses can use underwater Wi-Fi or satellite communication for internet access. They can even install on-premises servers to support mobile apps.
Optimised services and attribute-based selling
Customised services curated using the data collected on CRM software or reservation modules are ideal for underwater hospitality businesses looking to attract more guests. Loyalty rewards or personalised amenities enable guests to enjoy luxury underwater at discounted prices or offers.
Attribute-based selling is also an idea for market segments that cannot afford highly luxurious offerings. Enabling guests to choose services/ products they require and charging them only for those chosen amenities offers them more control over their stay and hence, their expenses.
Obtaining the necessary licenses and support
Unlike other venues, underwater hospitality aims to explore uncharted territories. Adding human civilisation into these habitats will likely disrupt that ecosystem. Therefore, construction, operations and guest activities must have minimal impact on marine life.
In this regard, obtaining the right permissions and following approved construction standards is a must. Underwater buildings need governmental support and sanctions to be sustainable and ethical.
Ensuring continuous maintenance
Tools and systems used in underwater hotels and restaurants require continuous maintenance. With underwater habitats having limited resources, sudden system failures may lead to operations downtimes. Due to the restrictions of the location, these operational downtimes can even last until repair persons or system upgrades are done.
Businesses using management modules such as Property Management Systems, need to perform ongoing maintenance. This will ensure continuous functionality around the venue and enable the staff to provide services without interruption.
Is underwater hospitality a sustainable strategy?
Underwater hotels and restaurants such as The Apeiron Island Hotel, Conrad Hilton, Ithaa Undersea Restaurant and Poseidon Underwater Resorts are already shaking the waters in the hospitality industry.
However, to continue co-existing with nature underwater, it is essential to follow standard, ethical and sustainable practices. Thoroughly planned strategies that takes all potential challenges into account will guarantee business continuity and better guest satisfaction.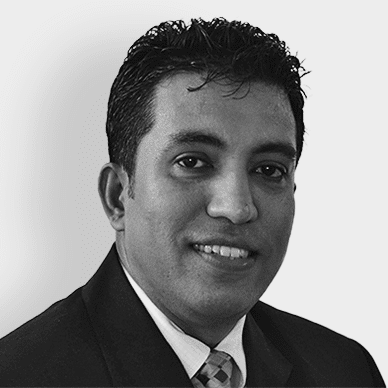 Vice President & Country Head of Sri Lanka and Maldives
Looking after entire Sri Lanka and Maldives, Nandika as a VP is responsible for the Sales and Operations team encompassing hospitality software. His years of expertise in IT and strategic management has helped in contributing to streamlining the technological needs of IDS clients.