Hospitality, travel and tourism and all related sectors focus heavily on guest satisfaction, luxury and extravagance, which requires extensive effort from its workers. In the last two years, the stakes have also been high for the sector, coming out of months of closure, limited operations, labour shortage and wage reforms. Businesses indeed had to go overdrive in trying to retain their patrons, which raised significant issues in their treatment of employee rights amidst labour and skill shortage.  
The issue peaked last year during the FIFA World Cup season, with several allegations by human rights organisations like Amnesty International about the labour exploitation behind Qatar's FIFA preparations.  
However, even before that, labour issues were in the making in the hospitality industry, as proven during the great resignation of the USA's hospitality workforce and consequently around the world. Moreover, human rights concerns and labour rights in hospitality do not end in the USA. Similarly, as stated by the coordinator of the Children's Rights Division at Human Rights Watch, Katherine La Puente, about FIFA 2022, 
"The scale of the human rights abuse doesn't end with these workers' lives, nor does it end in Qatar". 
This demands the question: how can hospitality businesses effectively solve the conundrum of labour rights vs guest satisfaction?  
What causes labour issues in the hospitality industry? 
The answer to this question comes from various social, economic and political reasons.
1. Underpaid and underappreciated staff:
Underpaid and underappreciated staff were not limited to the hospitality sector of the United States. Many employees deemed low salaries and unpredictable working hours unappealing. From developed countries like Australia and Ireland to developing countries in South Asian regions alike, this has become a severe issue
2. Pandemic restrictions:
Around the world, pandemics lead to the closure of hospitality businesses. This results in letting go of employees and relying entirely on take-away practices to provide a safe experience. However, post-pandemic, an extensive number of positions were left open. Potential employees are now considering hospitality jobs unpredictable during crisis times.
3. High competition:
Due to many modern demands in the industry, competitors have always been on the pin to implement any need required instantly. However, due to certain external conditions in the environment, hotels are striving to meet revenue targets which in turn creates a challenge in meeting the demands of the industry. This creates an environment for the hotel to operate with short staff creating employees to experience overwork and burnout to meet the rising number of demands.
4. Unethical hiring practices:
As event-centric hospitality became widespread, many businesses opened temporary jobs during the event, even providing opportunities for migrant workers when local markets showed a labour crunch. Yet, this further caused dilemmas about labour rights as their contract period ended, and migrant workers were left with no hope for work and sent back to home countries without a source of income.
5. Human rights allegations:
The industry has faced its fair share of human rights allegations, making it unappealing to fresh talent seeking work. Among them is harassment of women staff, labour exploitation, lack of welfare schemes, and high-demand work hours are prominent.   
How can hospitality recover from existing labour concerns?
The industry is back in full swing in 2023, with more job openings than ever. To ensure these new opportunities remain ethical and righteous, solutions are available in the form of labour reforms, adequate skills training and technology.  
Maintaining standardised hiring practices
Hiring skilled labours from one's own country or among migrant communities must be standardised, with the law, regulations, rights and responsibilities clearly defined in employee contracts. Awareness on the side of the employee is also vital. All employees, including those from lesser privileged backgrounds, definitely need training and education about their rights, awareness about the resources/ authorities they can turn to in the case of abuse and the legal solutions available.    
Automation and digitalisation 
Technology, too, plays a vital role in making the life of employees easier. For instance, tablet-based POS systems and mobile ordering solutions have been efficient solutions to the labour shortage in the hospitality industry. Even though restaurants were required to minimise foot traffic and implement a roster basis, these solutions have kept the servers stress-free without compromising the efficiency of the operations.  The technological response to responsibilities like inventory management, increased bookings and sales is ERP systems. Hospitality organisations of every nature can use these solutions to control activities like accounting, projects or workforce management, supply chain, and even responding to guest needs.     
Streamlining task allocation
Providing a streamlined, well-equipped job leads to greater satisfaction and flexibility for the workers at any given job. The staff have better access to information, which increases the quality of guest interactions. For instance, housekeeping modules connected to PMS and accessible on mobile devices will help workers stay connected to their task lists.   
As a result, it takes off the burden of multitasking from employees. Instead, managers can easily manage employee schedules and tasks. This means allocating responsibilities per staff availability, managing shifts, roster work, and remote work, avoiding unnecessary work hours and keeping careful track of employee performance.  
Training employees for new age needs
Investing in employees can take hospitality businesses to greater heights. As hospitality shifts to digitised operations and rely more on AI-powered processes, it's essential that the employees get familiarised with these new working structures. A great way to attract and retain talent is by providing them with professional development opportunities and training. 
An employee who is aware of how to work together with new technologies—be it artificial intelligence, automation or contactless technology—is far more likely to feel comfortable at their workplace and productive in their service delivery.    
Deploying employee safety protocols
Contemporary businesses are rewriting the standards of work and what 'productive' means. Instead of the constant grind, giving employees paid sick days, personal days and vacation days to improve work-life balance can eliminate staff burnout to significant levels.   
Employee safety and DEI practices can also create healthy workplaces. Practices like safety for female employees, inclusivity practices, accommodating vulnerable groups and providing safety tools like employee panic buttons for emergencies can make the staff stress-free and allow focus on work without disruptions. New talent from millennial and gen-Z audiences are more attracted to a workplace that respects and protects them.  
Balancing the fine line: Resolving labour and skill shortage in hospitality
The right solutions to the dilemma of the labour shortage in the hospitality industry are to improve the working conditions of hospitality workers and identify the challenges in their jobs. Providing optimal working conditions, by extension, will also lead to the rise of employee productivity rate and retention rates.   
To ensure guest satisfaction and brand recognition, hoteliers must empower their workers first. Only by strengthening their workforce can they expect better delivery of services.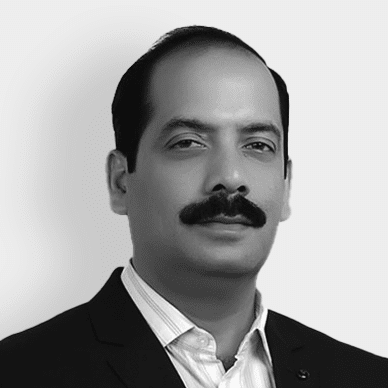 Senior Vice President - Sales, South Asia & South East Asia
He brings extensive industry experience and a track record of success in selling technology and services to global clients across hospitality markets. He has proven to be essential and crucial Sales personnel who is primary involved and contributing to acquiring new clients in South Asia and South East Asian regions.