With the big change in how things are getting done after the storm of covid-19 which the world didn't expect to be washed with, many industries are experiencing massive strategic drifts. Every industry, including hospitality, is holding on to the rope called- the Big Data to survive this turbulent time. We've heard enough and more about how Big data or cloud technologies have been revolutionizing businesses in the near recent. But how exactly is it giving hope to the hospitality industry and is taking 'seamless travel' to a whole new level?
Remember the crushing noise of a dial-up connection? Thanks to the lightening speed at which technology is evolving we no longer have to hear that agitating noise. Wi-Fi, is no longer wired, and technology is now touchless. And the immediate switch to touchless-tech the hospitality industry turning towards, might be it's ticket's to success. Welcome to the age where, every element of your travel feels connected.
Not just to the local culture, but in all its literal glory.
Failing to connect means, failing to survive. Because not only have guests become increasingly Tech-savvy, but the covid-19 impact has highlighted the potential risks of physical touch point. This had made a hands-free experience paramount for both, them and the brands.
Travel enthusiasts will only feel comfortable to patronize a sit-down restaurant or hotel when the company's ability to test, trace and isolate covid-19 cases is significantly improved. Covid-19 has called hotel owners and suppliers of travel to remain focused and look for ways to eliminate any element of risk that could deter the travel experience of their customers.
Therefore, the importance of instilling a sense of trust is in the hearts of their guests and employees, is what's going to attract and retain them. Considering that the future is all about building this trust, hoteliers are finding ways to ensure that their properties are safe to stay in, now and even after the pandemic ends. And this is exactly where the trend towards contactless technology solutions like FX GeM in the hospitality industry acceleratedl lending a hand to hospitality owners to help pave their road to recovery.
Contactless Solutions in Check-ins, Processes and Payments
Pre Check-in and Check-In
Hotels are taking every steps they can do to shift from high-touch, staff attentive, and guest-centric experience to a low-touch, contactless, and a self-service experience. From pre-check-in to check-in, stay and checkout, hoteliers can adapt to digital guest registration systems and digitally managing in-room dining and mobile checkouts through solutions like FX GeM
The issue of prioritizing health screenings, that were rarely heard of before the covid-19 has inevitably become a priority now. Many areas of public gatherings, including hotels are taking heed to comply with it.
These health screenings, are calling for enhanced tech devices that allow contactless temperature checks, making the entire process convincingly safe and convenient.
In simple terms, success is defined through how well customers can get what they want from a hotel, through their own personal devices. Before they even arrive at the location.
Stay
By enabling reservations through cloud solutions, hotels can control crowd capacity and social distancing in areas like pools beaches and restaurants. In-room dining and restaurants can be managed by providing guests with a safe and unique dining experience. In fact, guests can order as they please by simply scanning the QR code on their table through mobile friendly software solutions like FX GeM.
Whether visitors require an extra towel or crave a Lankan cuisine for dinner, the evolution of contactless technology has now allowed hotels to take advantage of digitals systems. These systems will help them respond to any questions their visitors have, or any extra booking they want to make more rapidly than ever. I guess the dramatic, in-room telephone calls finally come to end, but hey at least you can avoid taking a trip to the lobby and flip exaggerated brochures as you wait!
Check-out
Payment technology was already evolving at a rapid pace, and the current situation that took the world by storm has only made it even more significant. Touch surfaces are to be minimal and best if completely avoided. Cloud technology comes to the rescue once again here, allowing guests to pay through their mobile phones through web-based applications contactless solutions like FX GeM. FX GeM provides a simple contactless check-out process, so that every customer leaves with a smile.
Staff Management
Along with creating solutions to help better manage their customers, hotels are also getting the help of technology to protect their staff. Digital tools and solutions can be used to manage their recurring safety and cleaning procedures. These solutions can be exploited to guide employees on which cleaning solutions to use on specific areas, the number of times it needs to take place and any other precautionary measures to be taken. The hospitality industry prominently focuses on customer relationships. And now that warm smiles are hidden with masks and handshakes replaced with hand in the air gestures, catering to the needs of the guest, has turned into a digitalized journey of personalization!
We're not sure if there's an end to this pandemic. Whether social distancing will cease anytime soon or if contact-free will become the new norm. But what we do know is that there's still a greater hope for businesses in the hospitality industry to survive and nourish. If they make conscious decisions on what technology to invest and consider opting for contact-less solutions to recover globally as an industry that is.
Get an interesting insight and know more about FX GeM: https://idsnext.com/backtobusiness/fx-gem/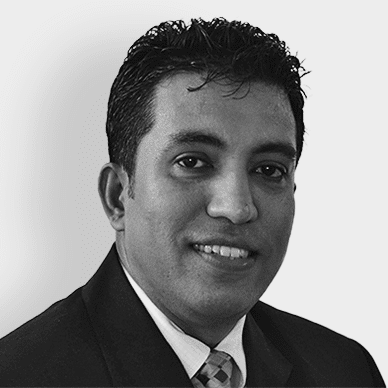 Vice President & Country Head of Sri Lanka and Maldives
Looking after entire Sri Lanka and Maldives, Nandika as a VP is responsible for the Sales and Operations team encompassing hospitality software. His years of expertise in IT and strategic management has helped in contributing to streamlining the technological needs of IDS clients.