2021 has been an endless yet fleeting year. The pandemic overtook the world, and the hospitality industry had to face a massive setback. The light at the end of the tunnel seemed unreachable. However, rising through chaos has always been the speciality of this industry. Hoteliers strived through the year by adopting innovations, exploring new revenue streams, and incorporating the power of technology. Let's revisit the key takeaways of 2021 as we move on to the new year.
Reaching for the Clouds
The hospitality industry has been slow in adopting cloud technology to its operations. The complex process in cloud migration and the costs associated with it are the main reasons for hotelier's hesitation. This reluctance could lead to many risks. One significant risk is the possibility of a data breach which could lead to a severe drop in the hotel's customer loyalty and trust. Loss of such sensitive guest data could eventually have a heavy impact on the hotel's overall revenue.
Adopting cloud solutions will guarantee an increased level of data security. Cloud services like Microsoft Azure Cloud, which is incorporated in IDS' cloud products, has an automatically scheduled routine scanning which keeps the system in check. Azure develops its threat insights by analysing an array of sources providing the highest level of system security to the hotel's data. Adopting cloud solutions will also assist hoteliers in minimising direct and indirect costs such as server maintenance cost and staff training costs. Cloud solutions also allow hotel guests a smoother and more personalised experience. It provides the convenience and speed required to attract the 21st Century guests, making it the perfect solution for hoteliers.
Making it Millennial
Today, millennials, making 31.5% of the world's population, have taken the wheel. This generation wields $200 billion in spending power, and a generous chunk of it belongs to the hospitality sector.
Offering Instagram-worthy backdrops for photos within the hotel property is one way to attract millennial guests who love posting their holidays on social media.
60% of millennial travellers feel that an authentic culture and cuisine is the most important part of a travel experience. Hoteliers can use this fact to their advantage by making food unique to their culture and locality available in their hotels.
86% of millennials refuse to book a hotel before reading its reviews. Hoteliers will need to pay extra attention to the reviews posted about their property on online platforms and address the issues efficiently and professionally.
Millennials expect hotels and their services to be always available. Hoteliers will need to be quick, efficient, and spontaneous when catering to millennial guests.
Not only as guests, but according to the U.S Bureau of Labour Statistics, by the year 2030, millennials would make up for 75% of the total workforce in the hospitality industry.
Millennial employees are tech-savvy, and 93% of them believe that a business having up-to-date technology is an essential factor when choosing a workplace.
Hoteliers need to focus on technological solutions that are easy to adopt and requires less training.
Millennial employees love mobile technology, and 70.1% of them expect that they will be able to use their mobile phones at work. Hoteliers should take this fact into account and aim to adopt more mobile technology into their hotels.
Becoming Sustainably Chic
Sustainability practices are becoming a focal point within the modern community, especially because of the growing awareness among millennial and Gen Z guests. Adopting technological solutions to reduce the overall wastage of their hotels is important for hoteliers to increase sustainability within their hotel functions and attract more guests.
Conduct food waste audits through ERP technologies like IDS' FortuneNext 7.0 to track food waste from the source to disposal.
Conduct inventory management evaluations through the assistance of technologies like FX POS.
Plan the menu by assessing the popularity of dishes and establishing an optimal portion size for each meal.
Install temperature-sensing air conditioners that can adjust cooling accordingly.
Use e-menus through technologies like IDS' FX GeM.
Clever Wielding of Digital Marketing
Modern customers spend almost 59 hours a week using the internet, making it impossible to deny the importance of digital marketing in hospitality. When initiating digital marketing, hoteliers should consider the performance of past marketing campaigns, understand the demand their hotel can handle and focus on creating aesthetically pleasing content.
Among the many online platforms available today, hoteliers can focus their marketing on their digital marketing channels, social media and use paid advertising to promote their property. Owned digital marketing consists mainly of the hotel website, which hoteliers can develop into becoming a clear communication passage between the guests and hotels. When handling social media, hoteliers will need to get creative and post unique content to attract potential guests.
Navigating the Age of Contactless
Social distancing and minimising touch points became imperative with the rise of the pandemic. Contactless technology along with QR codes came as the saviour for hoteliers in resolving the dilemma of continuing business while adhering to these new norms. Hoteliers can use contactless technology for easy check-in, to create brand awareness, access restaurant and room service menus, promote events, and obtain customer feedback.
Tech-Based Operations
Technology is evolving, and hotels will have to evolve alongside it to make hotel operations smoother, stay relevant, and stay ahead of the competition. Adopting hospitality solutions like IDS' FX Front Desk will help create the perfect balance between human connection and technology in the hotel front office operations. It will automate repetitive tasks for the staff and create a clear booking process and easy payment method.
Not only the front office but adopting technology in back-office functions like F&B and housekeeping will enable hoteliers to improve their quality of service. Software solutions like IDS' FX Dine  will enable easy table management, hassle-free ordering, and effortless payment in hotel restaurants. Software solutions like IDS' FX Housekeeping will make housekeeping operations efficient through enabling structured cleaning process and automating job assigning.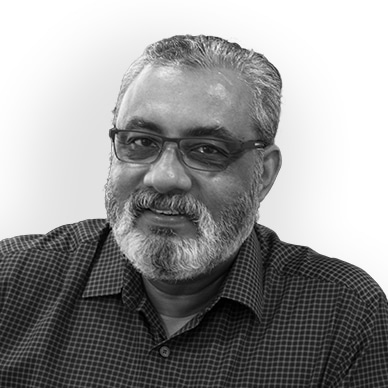 Chief Executive Officer
As the CEO of IDS NEXT, Binu acts as the primary spokesperson of our company and is responsible for managing various business functions of IDS across the globe including sales, support and services, and product development.