The front desk is the first sight that a guest sees the moment they step into a hotel. Creating the perfect first impression depends upon the smooth operation of the front desk. Research shows that 69% of travellers believe that a positive impression from the outset is vital for their entire stay in the hotel. Having a thoroughly trained and capable front desk team along with the support of innovative technology is, therefore, a primary requirement of every hotel.
The front desk team
Having a great team will significantly improve a hotel's front desk operations. Incorporating simple practices into the hotel system will assist hoteliers in improving staff performance and deliver a better guest experience. Being available for the guests at all times and being able to read cues properly is important. Picking up subtle signs of the guests and providing the information they require, for example, pool hours, special snack bars for kids, and cribs for newborns will be highly appreciated by the guests.
Being available for the guests is not an easy task. Irrespective of its tediousness, being present at all times is crucial. There are instances where guests arrive at the most unexpected hours. The front desk staff should be available at these times to prevent unnecessary waiting time. A study conducted in several countries found out that exceeding the waiting time of five minutes can result in a 47% decrease in guest satisfaction. Hoteliers should therefore make sure that the guests do not go through any inconveniences during check-in and check-out. At the time of check-out, the front desk team should complete the formalities efficiently, facilitating a smooth check-out. Providing convenience and acting in a time-saving manner would influence the overall guest satisfaction.
The impact of the interior
The layout of the front desk plays an essential role in creating the perfect first impression for the guests. Hoteliers should ensure that the lobby area radiates a feeling of welcome and comfort. This will make the guests realise that they have chosen the perfect place for their stay. Hoteliers should also take note to reflect their brand image through their front desk interior. The uniqueness created will leave a positive image in the guests' minds towards the hotel.
Choosing the perfect furniture to enhance the style of the front desk area, selecting the perfect lighting and music, and creating a balance between outlook and functionality are points that hoteliers should place more importance on. Creating a front desk space that has an inviting ambience will encourage guests to connect more with the brand.
 Embracing automation
Today's advanced hospitality software has made it possible for hotels to operate without a physical front desk. However, even if much research shows high preference for mobile and self-service technology, some studies have proved that guests consider human connections are essential. In such a situation, finding the perfect balance between the two extremes will help hoteliers create the perfect experience for their guests.
Front desk activities are mostly tedious. Rushing guests through check-in and delays in payments while checking out are things that hoteliers should avoid. However, a fast, efficient, and flawless service is required to keep a guest happy.
Having good hotel front office software is ideal in such situations. A hotel front office software will automate repeated tasks will help the team to avoid reception ques and speed up the payment process. It can also empower the staff and avoid feelings of monotony. The staff can greet guests into the front desk area with a tablet or other mobile device in hand and continue registration while personally accompanying the guests to their rooms. This will help create a more flawless and smooth welcome than one conducted across a desk.
IDS' FX Front Desk is a revolutionary mobile PMS solution for hoteliers to avoid all these hassles. It facilitates guest profiling allowing the front desk team to know their guests better and serve them with a superior and personalised experience. Its accessible mobile app is embedded with online chat to provide instant support to the guests.  It also generates and emails bills, thereby saving a significant amount of time and resources.
The first impression created at the front desk has now gone beyond a pleasant, smiling face. A clear booking process, easy payment methods, and proper staff training have become a must. Incorporating innovative technology will prove to be the ideal solution for hoteliers to deliver a positive first impression to all guests.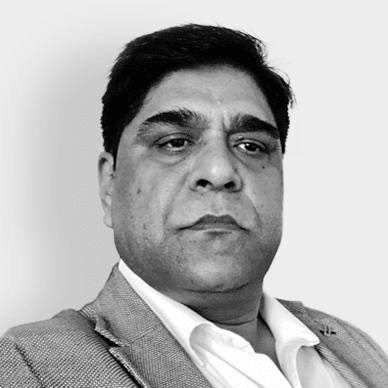 Chief Revenue Officer
As the Senior VP for Middle East & Africa, Rajesh P Yadav lovingly known as "RPY" at IDS is one of our most enigmatic leaders who is extremely capable in strategic planning, business operations and business development. He identifies new potential markets and find ways to build new clients for IDS in these new markets.