Comfort, convenience, and cherished memories; this is what every hotel aspires to offer their guests. Hoteliers today are looking to uphold these values in an era marked with a digital revolution and crowded with devices. With the effects of the pandemic, hoteliers were all but forced to adapt mobile solution.
It is now evident that the future of hospitality is marked by mobility. From pre-stay research to post-stay feedback, hoteliers have the opportunities to interact with their guests easily. The trick for hoteliers is to use these opportunities to add value to the customer journey in order to gain a competitive edge.
Research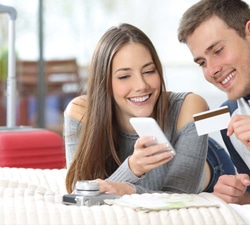 Gone are the days when guests searched through travel leaflets for the right experience. Online research is on the rise with 70% of travellers researching travel on their smartphone.
A recent survey by Google revealed that most of these travellers are focused on their needs and overall experience, and not the price, with 47% of travellers deciding not to book because of unmet needs. In contrast, only 26% chose not to book because of the price.
So, it is crucial to reach out to the guests and establish relationships at an early stage. Ensure that the hotel brand, culture, and experience, is accurately reflected in search results. Offering a simple space where guests can easily resolve any issues will be useful in creating a tailored experience. The time taken to respond, and the tone of the responder can be deal-breakers if not appropriately managed.
Check-in and check-out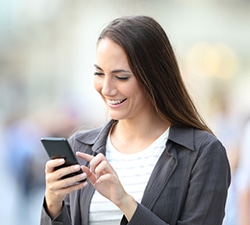 First impressions set the stage for the guest experience, and last impressions seal the deal. Customers do not want to spend time pouring over a confusing an app, trying check-in. They will switch to a hotel with a more hassle-free process.
Ask yourself whether the platforms are user-friendly to the not-so-tech-savvy customers. Provide methods to guide your customers through the process. The platform interface must be navigable on any device, be it a PC screen or a mobile.
Flexibility is a key feature of the mobile future. Customers need to be allowed a certain period to change dates or cancel bookings with refunds. Providing facilities to change their room or the number of guests will also prove useful. Finally, top it all off with fast bill generations, secure payment gateways and smooth check-out processes, and watch your customers leave with a smile.
During stay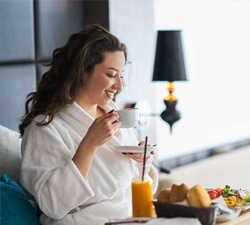 Customers of the future want control of their journey at their fingertips. A recent survey showed that 88% of the hotel guests prefer to have a mobile application that can deliver them a personalized experience.
From extra pillows to midnight snacks, hotels can allow customers to request room cleaning services, in-room dining facilities, and other concierge services from the comfort of their own devices. Customers can receive push-notifications of real-time promotions and service vouchers based on their location within the hotel. The information gathered during their journey can also be used for instant reward programs and loyalty benefits.
The last thing a hotel wants is to serve top-notch facilities through a bugged platform. Any amount of "waiting-time" is sure to lower customer satisfaction drastically. To gain the maximum benefits, the interface must be user-friendly to customers of all generations.
Post-stay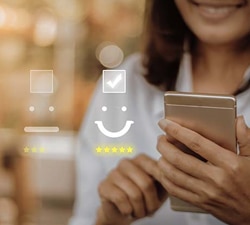 Keep the connections alive, even after the customers have checked out. A happy, connected customer is not only a secured and retained customer, but also the best form of marketing for the hotel.
Allow your guests to contact you to rate their stay and provide feedback. Collecting feedback will only carry meaning if the hoteliers react accordingly. A response from the hotel apologizing for a negative review can make the world of a difference.
No one likes to repeat themselves, especially not your customers. Managing a systematic database will ensure that when a customer walks in again, their tailor-made experience is awaiting them.
All of this is in a loop. The feedback and the information gathered can be used to boost the hotel's online reputation and construct guest experiences to remain on top during pre-travel research. And so, the cycle continues.
Hospitality had begun to integrate mobility into the customer journey long before COVID brought the technology to the forefront. In an age where every hotel is scrambling to incorporate mobility, the challenge for hotels is to stay ahead of the competition.
The best way to do this is to enhance the customer journey by wielding the power of mobility skillfully. From online searches to customer feedback, hoteliers can add value at every step of the way by empowering consumers to make informed decisions and take charge of their experience. Give the customers a valuable experience, and they will place you on top.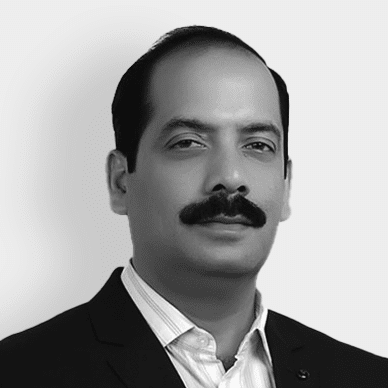 Senior Vice President - Sales, South Asia & South East Asia
He brings extensive industry experience and a track record of success in selling technology and services to global clients across hospitality markets. He has proven to be essential and crucial Sales personnel who is primary involved and contributing to acquiring new clients in South Asia and South East Asian regions.