Hospitality's dynamic nature has shown that there is no one pathway to doing business. Over the last few years, this has been proven repeatedly as the industry adopted new trends, navigated changing economies, and even let go of legacy systems.
Its ability to adapt to change has directly impacted the hospitality industry's decision-making and the direction it is expected to take in the future. However, to understand where the global hospitality industry is heading, it is vital to understand its current landscape, particularly the challenges standing in the way of its growth and what predictions will define its future.
The challenges faced by modern hospitality businesses
Staff shortages and retention
Over the last few years, staff shortages have been one of the significant challenges faced by the industry. A 2022 report by BigHopsitality states that, compared to May 2019, the industry saw an increase of 83% more vacancies advertised even as the sector announced over 300,000 jobs in the previous year. The uncertainty created during the global health crises, unfair wage schemes and human rights allegations are among some of the major culprits in the industry, leading to lower staff retention rates.
Rise in the cost of living
The rise in the cost of living affects the industry two-fold. From the consumer perspective, the public is less likely to spend eating or drinking out amidst inflation. In the context of the business owners, they are facing the high cost of production and maintenance with the prices of raw materials going up.
Even as the consumer numbers are returning to pre-pandemic levels, hospitality businesses are still facing the spike in the operating cost, with several industry trade groups expecting local governments, new technologies and more labour to support them in future.
Environmental impact
Undeniably, the climate crisis is impacting all industries and is one of the vital conversations in the business world. Modern hospitality businesses must not only be conscious of the environmental impact of their internal operations but also their consumers' behaviour. A sustainability Report by Booking.com has found that 83% of global travellers deem sustainability critical. It's time for hospitality brands to truly commit to green efforts and overcome the curse of greenwashing.
Increased and diversified demand
As travel and socialising increase, industry sales show promising numbers. However, in this new age post-lockdown, more trends are emerging. Guest needs are diversified by age, gender, race and even spending capacities; traveller needs depend on whether they are travelling for business, pleasure or a mix of both. Meeting these new consumer behaviour patterns amidst the rising costs and staff shortages is a significant challenge for the sector.
However, this does not mean the industry is not ready to fight back. The newly emerging trends in the hospitality industry is a result of businesses experimenting with new strategies and responding to social, cultural and economic shifts.
Emerging trends in the hospitality industry
Experts have forecasted several new trends for the future of hospitality. If used right, these trends will not just be a monetisation strategy but will revolutionise hospitality for guests and business owners alike.
Focus on health and wellness-centred hospitality
As the importance of self-care and mental health increases, the wellness industry is beginning to boom with increased demand and sales. Hospitality venues, particularly those that offer wellness facilities such as spas, gyms, nature retreats etc., have a golden opportunity open for them.
This endeavour is facilitated by hospitality innovations such as data collection and analytics modules and spa management systems that enable venues to track and identify individual guest needs. Healing methods differ from guest to guest; tech innovations such as POS, reservation modules and guest request management systems can identify these individual needs. There is also a growing preference for digital diagnostic systems and curated wellness treatments.
Customer-facing controls
Customer empowerment is becoming an integral part of running any business, and hospitality is taking this into count with its new app-based services. App technology is helping hoteliers manage their services and enabling them to control the accessibility and quality of services like never before. Alongside mobile apps and cloud technology, services are elevating many aspects of the guest cycle, improving their experience and leaving them satisfied.
Additionally, customer-centric services such as attribute-based selling, voice-control services and self-operated contactless modules empower the guest to define their experience. These services enable them to choose their preferred amenities and have more control over their dining, leisure preferences or accommodation types.
Artificial Intelligence (AI)
AI has become the backbone of many businesses over the last few years. Technologies, including Chatbots have proven how important AI is in providing a customised experience to guests from the moment they get in touch with a brand. Predictive analytics revolutionises how hospitality responds to market changes and helps businesses forecast new trends. Machine-learning algorithms can build actionable customer segments to personalise customer experiences and services.
As the demands get diversified, these gadgets are helping the humans running the hospitality to understand their audiences, identify preferences and needs at every stage in the buyers' journey and provide them with bespoke services and marketing messages.
Sustainability and energy conservation
Modern guests cannot be fooled by greenwashing, and businesses have realised the consequences of adhering to greener standards. The focus on eco-conscious efforts and renewable energy also drives consumers to seek brands that practice what they preach.
These efforts are made possible with elements such as:
Cloud architecture that eliminates the need for physical IT infrastructure
E-receipts that remove paper wastage
Smart thermostats and energy management systems that automate the temperature management
Smart lighting and ventilation systems that switch off automatically when not in use
As a result, in recent years, hospitality outlets have been able to eliminate disposable plastics, paper and electronic wastage and even the emission of harmful gases.
Automation adoption
Automation has been a driving force that can resolve labour shortage challenges. With enterprise hotel technology automating most of the back-end operations of businesses, hotels can easily let their staff take the back seat when it comes to repetitive and monotonous tasks.
Some of the examples are:
Channel managers that manage hotel inventory on multiple platforms (OTAs) simultaneously
PMS solutions that can manage hotel reservations and admin tasks from a central point
Revenue management software that maximise the hotel's profitability by applying a dynamic pricing strategy
As a result, venue managers can quickly deploy their team members to other tasks that require human intelligence such as engaging with the guests.
Recreating hospitality in the metaverse
The metaverse is another one of the emerging trends which uses technology such as virtual reality (VR) and augmented reality (AR) to create interactive virtual worlds. In hospitality industry, metaverse is can be utilised in the following ways.
Provides guests with VR tours or options to explore their hotel using an avatar during the booking
Restaurants that facilitate customers to explore their menu or watch how meals are prepared
Virtual nightclubs facilitate people to experience music, dancing, and social interaction without having to leave their home
Casinos that recreate the gaming experience and allow customers to play games such as poker, roulette and blackjack in a virtual setting
Hospitality's future will look like…
The most successful hospitality companies are those that constantly evolve and make efforts to keep up with the latest hospitality trends. This is not only limited to the marketing efforts to receive the attention of consumers but also includes processes that embrace the new technology, respond to global events and can appeal to customers after capturing their attention.
As many hospitality businesses adopt these changes and try to combat the challenges, it is evident that the industry is being digitalised every day. The future holds nothing short of innovation for hospitality. Those same solutions will be what helps the sector overcome the socio-cultural and economic challenges, elevate hospitality businesses to provide enhanced guest experiences, and generate better revenue and profits.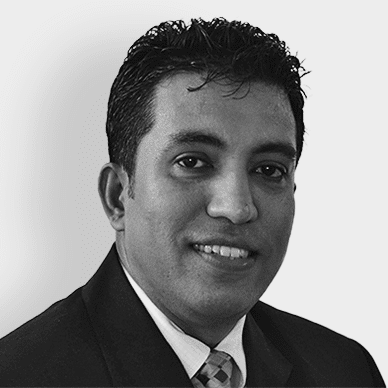 Vice President & Country Head of Sri Lanka and Maldives
Looking after entire Sri Lanka and Maldives, Nandika as a VP is responsible for the Sales and Operations team encompassing hospitality software. His years of expertise in IT and strategic management has helped in contributing to streamlining the technological needs of IDS clients.