The year 2022 marked many changes in the world of hospitality. The industry focused on catering to new guest needs emerging; revenge travel and socialising, Gen Z and Millennials dominating the traveller population and the evolution of digital technologies. In this blog post, we explore all that hospitality businesses learned last year.  
Hospitality has always been guest-centric; however, the new generation of guests is here with new demands. Hoteliers are investing in robust full-stack software solutions to provide a perfect experience that complements the travel objectives of each guest.   
Full-stack enterprise cloud solutions are now taking the centre stage in hospitality operations, covering a wide range of needs in multiple hospitality businesses, including hotels, restaurants, wellness, clubs and leisure solutions. These technologies have quickly become pivotal in lessening the friction faced by guests with facilities like self-check-in options, digitalised room services, tech-driven resource planning and personalised accommodation.   
As data becomes the currency of the new age, analytics tools like forecasting and predictive analytics are making hoteliers smarter and more proactive. Integrated into smart hotel software, these tools have the capability to monetise data and convert them into actionable insights that optimise the existing operational workflows.  
In order to create the ultimate guest experience, hospitality must acknowledge the needs of those who comprise the most of their consumer demographics; the millennials and Gen Zers. With their love for new gadgets and consciousness of civic duty, they are demanding sustainability, digitalisation and online solutions, and human rights adherence from their favourite hospitality brands. As such, it's natural that hospitality leans more towards technologies that enable them to be eco-conscious, guest friendly and ethically respond to the labour shortage.  
The unprecedented number of new technologies in the past years has significantly risen due to the burgeoning consumer demands, compelling hoteliers to adopt them to satisfy their guests. Trending technologies of 2022 included mobile technology with seamless communication and contactless tech for faster operations. Automated solutions also made a significant change, relieving employees from routine tasks, simultaneously boosting productivity, cutting expenses, and improving the experience of workers and customers.  
Millennials and Gen Z also expect uniqueness in their travel and socialising experiences. Therefore, VR tours and metaverse are rapidly becoming the industry's future, providing immersive experiences to even customers beyond geographical boundaries and bringing more revenue than ever before. Artificial intelligence is joining these next-gen technologies, supporting processes with solutions ranging from chatbots to front desk AI receptionists and data management.  
These technologies continue to dominate hospitality operations, seamlessly integrating themselves into processes beyond simple bed and breakfast.  Solar-powered self-service kiosk machines that provide navigational information, campsites that utilise a combination of on-premise and cloud solutions and digital ordering, for example, are the hot topic for outdoor hospitality resorts when delivering the most convenient stay even in the heart of the wilderness.   Additionally, biohacking treatments, VR-based therapy sessions, sleeping apps, and online consulting are taking the world's wellness treatments by storm, giving new meaning to relaxation and wellness tourism.  
All forms of businesses in hospitality are gearing up to provide services other than standard room amenities. Personalised wellness packages, camping and glamping options, water parks, for example, are becoming a common scene within most of the well-known hotels and resorts. 'Hospitality' becoming less synonymous with 'room, bed, and breakfast,' but leaning more towards luxury, comfort and relaxation.  
For many hospitality businesses, 2022 signified a period of a comeback with relaxed pandemic's effects and policies. A new wave of travellers emerged, who expected to make up for the lost time and turn business trips into a combination of work and pleasure. Workcations will continue to rise, expecting more work-friendly and networking spaces, good infrastructure facilities like high-speed internet, and even day-care and pet services that can facilitate an uninterrupted work experience while on vacation.  
New changes also bring in new challenges. As digital adaptation in hospitality increases and more and more stakeholders rely on cyberspace, data security has become one of the prime focuses of the industry. When investing in new hospitality solutions, educating employees on how to identify cybercrime and choosing software providers and SaaS platforms that comply with local and international data protection laws is a high priority.  
Moving forward, it is safe to say that more trends will continue to shape and reshape what hospitality means for 2023. However, what defined the industry in 2022 is more than likely to stay, and it is high time for businesses still relying on legacy systems to strategise for the new normal.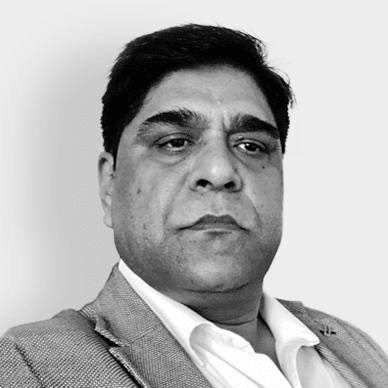 Chief Revenue Officer
As the Senior VP for Middle East & Africa, Rajesh P Yadav lovingly known as "RPY" at IDS is one of our most enigmatic leaders who is extremely capable in strategic planning, business operations and business development. He identifies new potential markets and find ways to build new clients for IDS in these new markets.