As the hospitality industry started recovering and reforming post-2021, artificial intelligence (AI) became an unpassable opportunity.
The advancement in computer technology made artificial intelligence more reliable, solidifying its presence in the business world. Companies are increasingly adopting AI to carry out multiple operations, from customer service to kitchen optimisation. According to a recent report by Global Market Estimates, AI in hospitality is estimated to grow with a 10% compound in annual growth rate (CAGR) from 2021 to 2026.
The value of AI in hospitality
Mimicking human interaction without the risk of disease, supporting human operations and speeding up the scaling efforts have been driving factors that helped AI expand within the industry.
Today the value of AI has exceeded beyond just personalisation efforts. Instead, operations are more innovative than they were only a few years ago.
1. Occupancy and room optimisation
One of the most renowned uses of AI in hospitality is price and room optimisation. AI-powered software analyses booking numbers and identify the trends and patterns among them. This facilitates hoteliers to accurately predict the metrics, such as the occupancy rate, and identify when rates may drop or rise. As a result, hotel decision-makers can easily optimise their marketing and pricing strategies, including determining when to advertise or when to change the pricing.
Predictions that are driven by AI technology also analyse data faster than the human mind. This includes a myriad of factors such as differentiating data based on local and regional trends, analysing competitor pricing, or even analysing socio-economic factors—a global pandemic for instance—that affect the occupancy rates.
AI software not only delivers accurate results within minutes but can also provide suggestions on improving a hotel's current strategies. Hotel businesses can quickly boost their occupancy and revenue as a result.
2. Customer and guest assistants
It's essential that hospitality businesses adapting technology do not compromise their in-person service. AI has evolved to the point that it can deliver in-person customer service,  with most hotels using this technology to digitise their operations while still maintaining the interactions with guests.
The industry is already witnessing the growth of robots, which presents a huge potential for businesses requiring in-person assistance. In hospitality, in-person assistants can manifest in multiple ways.
Robotic assistants:
One of the best examples of this is 'Connie', the AI robot adopted by Hilton. The robot can provide tourist information to customers who interact with it and is even able to learn from human speech and adapt to individuals.
Chatbot translators:
Chatbots are not new to businesses, but the more evolved they get, the more they adapt to the diverse world. Chatbot translators accommodate guests worldwide, recognise different languages and translate guest inquiries in real time.
Voice-based digital assistance:
Voice activation is available on multiple devices, from a guest's smartphone or laptop to even a tablet provided by the hotel. It allows guests to get the smartest experience, such as adjusting the air conditioning or heating in their room, turning on the TV, ordering room service, or contacting the front desk.
Facial recognition tech:
Evolving as one of the most popular elements of AI, this technology uses AI algorithms and machine learning to detect human faces for identification and verification purposes. Hotels are already using this for service access, enhanced security and even payment authorisation.
3. Data analysis
Data is now considered the new currency of businesses. Thankfully, as multiple hospitality business adopted AI into their operations, it has also streamlined data management. AI is helping hospitality businesses to maintain updated databases and customer profiles, quickly sort through big data sets and draw conclusions about the buying behaviours of different customer segments.
AI analytics can help businesses forecast demand with predictive analytics. According to McKinsey Digital AI-powered, forecasting can reduce errors in supply chain networks by 30 to 50%. It is also helping businesses with predictive maintenance in which AI techniques predict the condition of a company's equipment, enabling them to estimate when maintenance is required.
Business monitoring is another instance that AI analytics enhance hospitality performance. From customer experience monitoring to revenue and cost monitoring, this type of diagnostic analytics helps companies improve customer satisfaction and increase revenue.
4. Revenue management
Increasing revenue is one of the main objectives of any business and is vital for a business's success and sustainability. AI-powered revenue management has been helping the hospitality industry in this feat. These tools leverage data and analytics to determine the optimal price of a product, how to offer the product to those who want to purchase it, and which channels to utilise when advertising it.
Hospitality businesses cater to multiple segments of customers; from different nationalities, age groups and genders and even from different professions or industries. Customers in these different groups perceive the value of a service or amenity differently. Businesses must understand these different perceptions to set prices that will be appropriate for each group.
AI revenue management tools help hospitality businesses not only optimise prices for the attitudes of each target group but also determine the time and the way to pitch a product/ service to each group based on their buying behaviour.
5. Utility and resource predictions
The waste of perishable resources such as food has become a huge challenge for large hospitality organisations, affecting both their cost and sustainability efforts. So how are AI tools helping with resource management?
Most hospitality businesses are now using AI tools to manage their inventory and utilities, monitor the quantity and types of items that need to be purchased, and track consumption rates. Businesses can easily and accurately predict their requirements for the future. This will help businesses make sure that their stocks are filled at the right time with the right amount and avoid waste.
AI predictions also extend to managing utilities such as power and water. The ability to monitor and track the consumption of such resources helps businesses reduce unnecessary costs, conserve energy and contribute to greener operations.
6. Smart marketing
Hospitality marketing requires a thorough understanding of the audiences and optimising all messaging in a way that wins their attention.
Artificial intelligence helps businesses with smart product placement, fine-tuning their targeting efforts by significant levels. For example, with a combination of data based on geolocation or region and using predictive algorithms, businesses are now able to offer real-time recommendations to their customers. This method analyses past customer data to understand guest preferences, predict purchase actions, and make recommendations based on those.
This is one of the best ways hospitality businesses can sell, upsell and cross-sell ancillary products to their customers. By offering their customers more relevant and customised offerings, they are far more likely to influence the purchasing decisions of the customers and foster brand loyalty.
Hospitality businesses need to match the industry pace
Businesses that do not educate themselves about artificial intelligence or are hesitant to adopt are already risking falling behind in the industry. AI is already here and considered as the most dominant technology in multiple industries.
It is time for hospitality businesses to think ahead and adopt to the evolving technologies and make their operations future proof.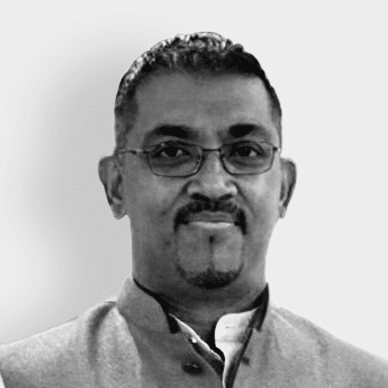 Senior Vice President- SAAS Engineering
An extremely driven and dedicated personnel, Kevin is currently the Vice President of Products at IDS. He has the unique ability to be a strategic leader looking over the entire new development concepts and making them a reality. He works extremely focused in an intense environment and is a result-oriented person. He is responsible for planning, creating and implementing the overall new products strategy. Besides that, he is responsible for setting up the overall strategy for creating company's products and offerings for the future.