Personalisation in hospitality is a critical aspect that needs to be designed with special care. It can deliver five to eight times the return on investment, helping hoteliers to make great leaps forward by increasing the overall turnover. This article will explore possible steps that hoteliers can take to create brand identity, customer satisfaction and loyalty through personalisation.
Catering to international travellers
The hotel website plays a crucial role in attracting overseas travellers. Along with a translated version of the website, hoteliers can update their website to give room rates in different currencies. Having a multilingual chatbot will also be a helpful addition in providing quick assistance to queries and process bookings.
The staff knowing a few basic phrases like "hello", "thank you", and "enjoy your stay" in multiple languages can make a huge difference in first impressions when welcoming international guests. Providing a prayer room for guests who may require it will be the perfect touch in creating the perfect stay. Hoteliers can also provide translated versions of in-room welcome baskets and menus for guests. Simple gestures like offering the guest a choice of their country's national newspaper and incorporating a broad range of global channels will help the guest settle in and enjoy their stay in the hotel.
Ensuring a seamless guest experience
Guests are often tired out when they arrive, and the last thing they want is to spend a long time filling out forms. Having mobile technology like IDS' FX Mobile Check-In will help hoteliers create a smooth and streamlined check-in process. The hotel staff can check-in guests as they make their way to their rooms. FX Mobile Check-In facilitates browsing through a list of available rooms to allocate rooms as per the guest's preferences.
Providing a seamless check-out process is as vital as the check-in process. Each guest looks forward to going back to the comfort of their homes at the end of a stay. Guests expect hotels to provide them with a streamlined and hassle-free check out process. Adopting solutions like IDS' FX Front Office Management can enhance the check-out flexibility through its simple mobile app. This solution enables the front desk staff to post charges per room and guest and print bills, creating a smoother check-out experience.
Cuisine-based guest experience
Dining is an essential part of the travel experience. Research shows that 70% of guests are drawn towards hotels based on the food and cuisine it provides. Hoteliers use information like the guests' favourite dishes, food allergies and special occasions like birthdays and anniversaries to provide a personalised dining experience.
A restaurant POS system like IDS' FX POS can help hoteliers fine-tune the dining experience. The 'Add Modifier' option in FX POS enables the hotel to customise dishes to meet specific guest requirements. FX POS enables separate orders to be taken for each guest at a single table through its 'order by covers' option helping hoteliers to create a tailor-made service.
Environmentally friendly guest experience
Today's environmental-conscious travellers are well aware of their carbon footprint. They recycle at home and are watchful of wasting water and other natural resources. They expect hotels to be equally aware of sustainable practices and provide them with environmentally friendly service.
Hoteliers can cut down on the use of plastic water bottles by offering guests a reusable branded bottle. Installing room sensors that detect light levels and thermostats with occupancy sensors will allow hoteliers to personalise the hotel experience for eco-friendly guests. Hoteliers can also furnish the rooms with natural fibre sheets and furniture made of sustainable materials. They can stock the room with reusable coffee mugs and glasses rather than plastic, paper or Styrofoam to create an eco-friendly experience.
With over 80% of guests stating that they would be open to switching loyalties for a service catered for their needs, personalisation is becoming a fundamental component in hospitality. Creating a personalised guest experience by treating every guest as a unique individual will help hoteliers gain increased revenue and lifetime loyalty from their guests.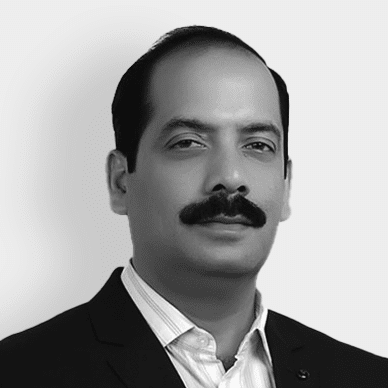 Senior Vice President - Sales, South Asia & South East Asia
He brings extensive industry experience and a track record of success in selling technology and services to global clients across hospitality markets. He has proven to be essential and crucial Sales personnel who is primary involved and contributing to acquiring new clients in South Asia and South East Asian regions.